Coraline's often wondered what's behind the locked door in the drawing room. It reveals only a brick wall when she finally opens it, but when she tries again later, a passageway mysteriously appears. Coraline is surprised to find a flat decorated exactly like her own, but strangely different. And when she finds her "other" parents in this alternate world, they are much more interesting despite their creepy black button eyes. When they make it clear, however, that they want to make her theirs forever, Coraline begins a nightmarish game to rescue her real parents and three children imprisoned in a mirror. With only a bored-through stone and an aloof cat to help, Coraline confronts this harrowing task of escaping these monstrous creatures.
This is going to be a shorter review than I'd like but the story itself is under 200 pages so I don't have too many opinions about it.
Let's start!
I loved everything about this book, it's practically flawless just like the rest of Gaiman's work. I don't know if I can count myself a true Gaiman fan yet though since I've read 3 books but I'll definitely be working my way up there!
Trust me when I say it's creepy because it most definitely is, but in a very simple way. I don't think the goal was to scare you or creepy you out, but to just simply tell Coraline's story. Well, and if we get scared and creeped out along the way that's just a bonus isn't it?
The plot line is very straight forward and it excels at delivering an overall eerie atmosphere at the same time. Coraline has moved into a new flat where her parents work all the time and ignore her a lot. She wants to explore and wants things to be more…..interesting.
Remember how people always tell you to be careful what you wish for?
Well that's pretty much the whole plot because Coraline's life does indeed get quite a bit more interesting. She decides to open up a tiny door that's supposed to be bricked up, but imagine that, when she opens it there's a tunnel. Of course she walks through it and appears in a copy of her flat where she meets her other mother and other father.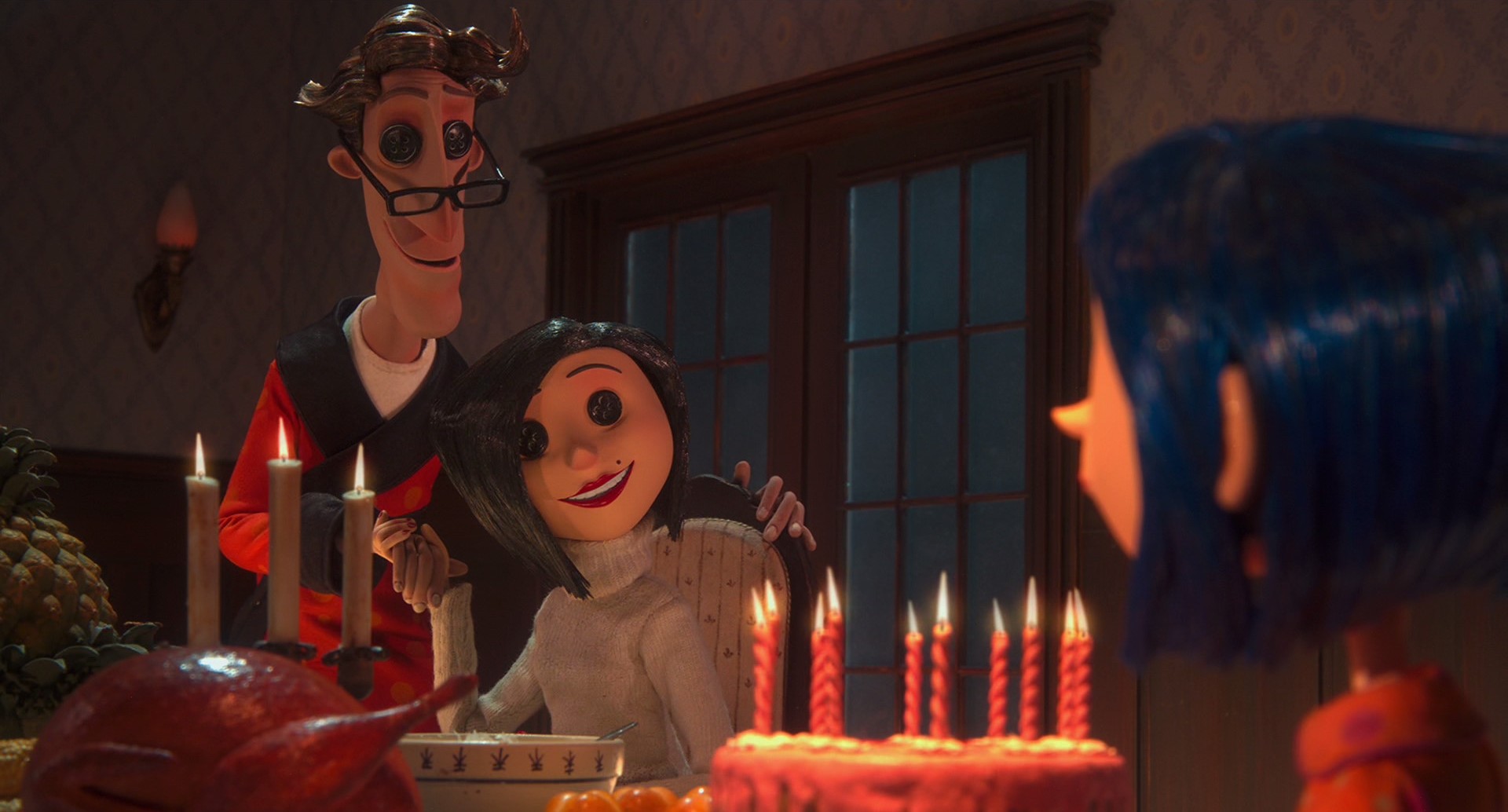 They have black buttons for eyes and they're scary as fuck. But Coraline doesn't mind because she's suddenly in a new world that's so much more fun than the other one she lives in. She gets to do whatever she wants and everything's perfect.
Or is it?
The other mother wants Coraline for herself, however, and that's really where the story begins. When everything starts to go bad.
Gaimain's writing is, as always, beautiful and easy to read along with. You'll be at the end of the story before you know it!
Coraline is wonderful. She's curious, clever, and courageous. "C" what I did there? I'm not lame. I enjoyed her character so much, she's everything I love in a heroine! Coraline is determined and not easily fooled, which makes things all the more interesting.
And the cat was an awesome addition to the story! Who doesn't love a good, sarcastic cat character? He pretty much talked and acted how I'd expect a real cat to, you know…if real cats could talk.
The other mother made for a great villain as well, she was actually very terrifying. If she just sat across from me and stared I'd be paralyzed with fear and if that doesn't make for a great villain I don't know what does.
Coraline is a great read for all ages, she's a brave character that's a lot of fun to read about. Plus everyone likes a good, creepy book once in a while right? Oh come on now, it's not that scary.
I can't wait to get my hands on more of Gaiman's books!
Definitely, like I said it's for all ages! If you're a Gaiman fan and haven't read this you'll love it and if you haven't read any of his books before this it's absolutely one I'd start with!