Well the title of the post is pretty self-explanatory. It's all about 2016 book releases I can't wait for, these are what I have SO FAR. Emphasis on the so far. There's plenty and there's bound to be far more coming!
Trust me when I tell you I really narrowed down my selection for this post, I had at least 20 to pick from. I chose to do a solid ten, for now.
Hopefully I can help you guys find some books to add to your every growing TBR piles!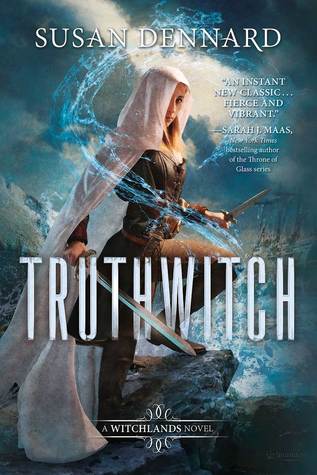 Truthwitch (The Witchlands #1) by Susan Dennard
Release Date: January 5th, 2016
Description From Goodreads
On a continent ruled by three empires, some are born with a "witchery", a magical skill that sets them apart from others.

In the Witchlands, there are almost as many types of magic as there are ways to get in trouble—as two desperate young women know all too well.

Safiya is a Truthwitch, able to discern truth from lie. It's a powerful magic that many would kill to have on their side, especially amongst the nobility to which Safi was born. So Safi must keep her gift hidden, lest she be used as a pawn in the struggle between empires.

Iseult, a Threadwitch, can see the invisible ties that bind and entangle the lives around her—but she cannot see the bonds that touch her own heart. Her unlikely friendship with Safi has taken her from life as an outcast into one of reckless adventure, where she is a cool, wary balance to Safi's hotheaded impulsiveness.

Safi and Iseult just want to be free to live their own lives, but war is coming to the Witchlands. With the help of the cunning Prince Merik (a Windwitch and ship's captain) and the hindrance of a Bloodwitch bent on revenge, the friends must fight emperors, princes, and mercenaries alike, who will stop at nothing to get their hands on a Truthwitch.
Why I'm Excited:
I'm a HUGE fan of the fantasy genre, seriously I will read anything and everything I can get my hands on if it's fantasy. This sounds like one hell of a fantasy novel too so it's not surprising I'm super excited for it.
After the Woods by Kim Savage
Release Date: February 23rd, 2016
Description From Goodreads
Would you risk your life to save your best friend?

Julia did. When a paroled predator attacked Liv in the woods, Julia fought back and got caught. Liv ran, leaving Julia in the woods for a terrifying 48 hours that she remembers only in flashbacks. One year later, Liv seems bent on self-destruction, starving herself, doing drugs, and hooking up with a violent new boyfriend. A dead girl turns up in those same woods, and Julia's memories resurface alongside clues unearthed by an ambitious reporter that link the girl to Julia's abductor. As the devastating truth becomes clear, Julia realizes that after the woods was just the beginning.
Why I'm Excited:
I requested an ARC on Netgalley for this baby and *fingers crossed* hopefully I get it because it sounds pretty great, right? This isn't my usual reading material but if a mystery/thriller is done right then I'll love it.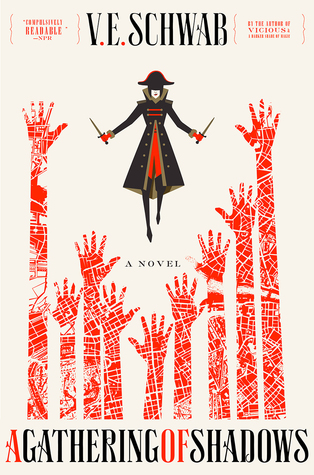 A Gathering of Shadows (A Darker Shade of Magic #1) by V.E. Schwab
Release Date: February 23rd, 2016
Description From Goodreads
***Spoilers From A Darker Shade of Magic #1***
Four months have passed since the shadow stone fell into Kell's possession. Four months since his path crossed with Delilah Bard. Four months since Rhy was wounded and the Dane twins fell, and the stone was cast with Holland's dying body through the rift, and into Black London.

In many ways, things have almost returned to normal, though Rhy is more sober, and Kell is now plagued by his guilt. Restless, and having given up smuggling, Kell is visited by dreams of ominous magical events, waking only to think of Lila, who disappeared from the docks like she always meant to do. As Red London finalizes preparations for the Element Games—an extravagant international competition of magic, meant to entertain and keep healthy the ties between neighboring countries—a certain pirate ship draws closer, carrying old friends back into port.

But while Red London is caught up in the pageantry and thrills of the Games, another London is coming back to life, and those who were thought to be forever gone have returned. After all, a shadow that was gone in the night reappears in the morning, and so it seems Black London has risen again—meaning that another London must fall.
Why I'm Excited:
Did any of you read the first book? It was amazing! Of course I'm excited for the sequel! I can't wait to read more about Kell and Lila and we finally get to see some more of Black London! Bring it on!
I also have a preview excerpt from Netgalley and as soon as I finish it I will post a mini review of it!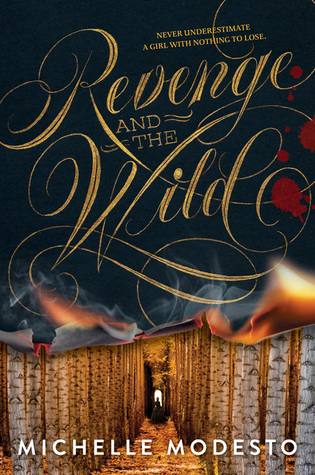 Revenge and the Wild by Michelle Modesto
Release Date: February 2nd, 2016
Description From Goodreads
The two-bit town of Rogue City is a lawless place, full of dark magic and saloon brawls, monsters and six-shooters. But it's perfect for seventeen-year-old Westie, the notorious adopted daughter of local inventor Nigel Butler.

Westie was only a child when she lost her arm and her family to cannibals on the wagon trail. Nine years later, Westie may seem fearsome with her foul-mouthed tough exterior and the powerful mechanical arm built for her by Nigel, but the memory of her past still haunts her. She's determined to make the killers pay for their crimes—and there's nothing to stop her except her own reckless ways.

But Westie's search ceases when a wealthy family comes to town looking to invest in Nigel's latest invention, a machine that can harvest magic from gold—which Rogue City desperately needs as the magic wards that surround the city start to fail. There's only one problem: the investors look exactly like the family who murdered Westie's kin. With the help of Nigel's handsome but scarred young assistant, Alistair, Westie sets out to prove their guilt. But if she's not careful, her desire for revenge could cost her the family she has now.
Why I'm Excited:
Well firstly do you see how gorgeous that cover is? Besides I'm 100% all for a western with magic and monsters, a western fantasy sounds sooooo sweet. I was pretty disappointed with the other YA western I read this year "Vengeance Road" so hopefully this one is better.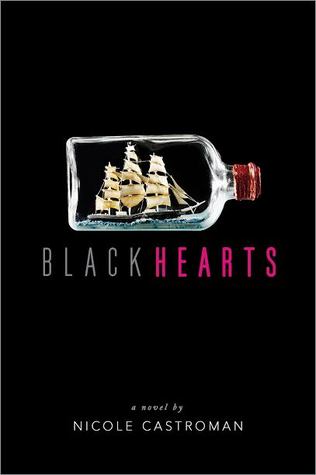 Blackhearts by Nicole Castroman
Release Date: February 9th, 2016
Description From Goodreads
Blackbeard the pirate was known for striking fear in the hearts of the bravest of sailors. But once he was just a young man who dreamed of leaving his rigid life behind to chase adventure in faraway lands. Nothing could stop him—until he met the one girl who would change everything.

Edward "Teach" Drummond, son of one of Bristol's richest merchants, has just returned from a year-long journey on the high seas to find his life in shambles. Betrothed to a girl he doesn't love and sick of the high society he was born into, Teach dreams only of returning to the vast ocean he'd begun to call home. There's just one problem: convincing his father to let him leave and never come back.

Following her parents' deaths, Anne Barrett is left penniless and soon to be homeless. Though she's barely worked a day in her life, Anne is forced to take a job as a maid in the home of Master Drummond. Lonely days stretch into weeks, and Anne longs for escape. How will she ever realize her dream of sailing to Curaçao—where her mother was born—when she's stuck in England?

From the moment Teach and Anne meet, they set the world ablaze. Drawn to each other, they're trapped by society and their own circumstances. Faced with an impossible choice, they must decide to chase their dreams and go, or follow their hearts and stay.
Why I'm Excited:
Pirates. That's it. I'm a big fan of pirates and there aren't enough YA pirate books in the world! I'm not a big fan of romance but if they do the pirate aspect well then I don't care!
The Great Hunt by Wendy Higgins
Release Date: March 8th, 2016
Description From Goodreads
Kill the beast. Win the girl.

A strange beast stirs fear in the kingdom of Lochlanach, terrorizing towns with its brutality and hunger. In an act of desperation, a proclamation is sent to all of Eurona—kill the creature and win the ultimate prize: the daughter of King Lochson's hand in marriage.

Princess Aerity understands her duty to the kingdom though it pains her to imagine marrying a stranger. It would be foolish to set her sights on any particular man in the great hunt, but when a brooding local hunter, Paxton Seabolt, catches her attention, there's no denying the unspoken lure between them…or his mysterious resentment.

Paxton is not keen on marriage. Nor does he care much for spoiled royals and their arcane laws. He's determined to keep his focus on the task at hand—ridding the kingdom of the beast and protecting his family—yet Princess Aerity continues to challenge his notions with her unpredictability and charm. But as past secrets collide with present desires, dire choices threaten everything Paxton holds dear.
Why I'm Excited:
It's based on a Grimm fairy tale called "The Singing Bone" so it's basically a fairy tale retelling and it sounds a little dark, so I'm in.
Riders (Riders #1) by Veronica Rossi
Release Date: February 16th, 2016
Description From Goodreads
For eighteen-year-old Gideon Blake, nothing but death can keep him from achieving his goal of becoming a U.S. Army Ranger. As it turns out, it does.

Recovering from the accident that most definitely killed him, Gideon finds himself with strange new powers and a bizarre cuff he can't remove. His death has brought to life his real destiny. He has become War, one of the legendary four horsemen of the apocalypse.

Over the coming weeks, he and the other horsemen–Conquest, Famine, and Death–are brought together by a beautiful but frustratingly secretive girl to help save humanity from an ancient evil on the emergence.

They fail.

Now–bound, bloodied, and drugged–Gideon is interrogated by the authorities about his role in a battle that has become an international incident. If he stands any chance of saving his friends and the girl he's fallen for–not to mention all of humankind–he needs to convince the skeptical government officials the world is in imminent danger.

But will anyone believe him?
Why I'm Excited:
Well I think the fact that it's about the Four Horsemen of the Apocalypse is super interesting, I can't wait to see how well it's executed in this book.
I have a preview excerpt of this book from Netgalley right now as well so as soon as I finish it I'll post a mini review!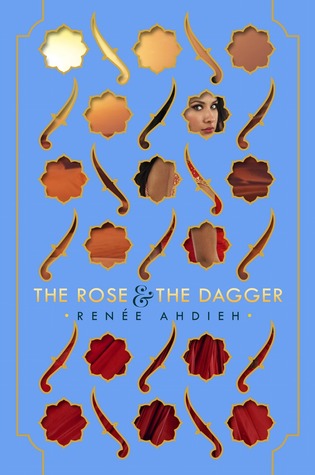 The Rose & The Dagger (The Wrath & The Dawn #2) by Renee Ahdieh
Release Date: May 3rd, 2016
Description From Goodreads
In a land on the brink of war, Shahrzad has been torn from the love of her husband Khalid, the Caliph of Khorasan. She once believed him a monster, but his secrets revealed a man tormented by guilt and a powerful curse—one that might keep them apart forever. Reunited with her family, who have taken refuge with enemies of Khalid, and Tariq, her childhood sweetheart, she should be happy. But Tariq now commands forces set on destroying Khalid's empire. Shahrzad is almost a prisoner caught between loyalties to people she loves. But she refuses to be a pawn and devises a plan.

While her father, Jahandar, continues to play with magical forces he doesn't yet understand, Shahrzad tries to uncover powers that may lie dormant within her. With the help of a tattered old carpet and a tempestuous but sage young man, Shahrzad will attempt to break the curse and reunite with her one true love.
Why I'm Excited:
I read the first book "The Wrath & The Dawn" and I freaking loved it, this is a romance based series and it really says something that I enjoyed it. So I'm DYING to get my hands on the last book in this duology.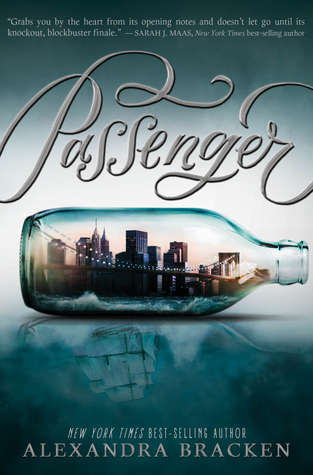 Passenger (Passenger #1) by Alexandra Bracken
Release Date: January 5th, 2016
Description From Goodreads
In one devastating night, violin prodigy Etta Spencer loses everything she knows and loves. Thrust into an unfamiliar world by a stranger with a dangerous agenda, Etta is certain of only one thing: she has traveled not just miles but years from home. And she's inherited a legacy she knows nothing about from a family whose existence she's never heard of. Until now.

Nicholas Carter is content with his life at sea, free from the Ironwoods—a powerful family in the colonies—and the servitude he's known at their hands. But with the arrival of an unusual passenger on his ship comes the insistent pull of the past that he can't escape and the family that won't let him go so easily. Now the Ironwoods are searching for a stolen object of untold value, one they believe only Etta, Nicholas' passenger, can find. In order to protect her, he must ensure she brings it back to them— whether she wants to or not.

Together, Etta and Nicholas embark on a perilous journey across centuries and continents, piecing together clues left behind by the traveler who will do anything to keep the object out of the Ironwoods' grasp. But as they get closer to the truth of their search, and the deadly game the Ironwoods are play­ing, treacherous forces threaten to sep­arate Etta not only from Nicholas but from her path home . . . forever
Why I'm Excited:
I feel like I've been waiting for this book FOR AN ETERNITY. Not only does the blurb sound absolutely fascinating but I also heard there were pirates….as you already know I'm a sucker for pirates.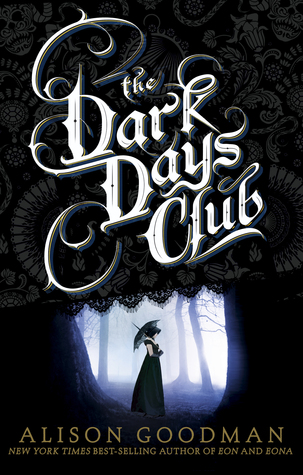 The Dark Days Club (Lady Helen #1) by Alison Goodman
Release Date: January 26th, 2016
Description From Goodreads
London, April 1812. On the eve of eighteen-year-old Lady Helen Wrexhall's presentation to the queen, one of her family's housemaids disappears-and Helen is drawn into the shadows of Regency London. There, she meets Lord Carlston, one of the few who can stop the perpetrators: a cabal of demons infiltrating every level of society. Dare she ask for his help, when his reputation is almost as black as his lingering eyes? And will her intelligence and headstrong curiosity wind up leading them into a death trap?
Why I'm Excited:
It's a fantasy, historical fiction, and maybe even a bit of mystery/thriller. I need that mix up in my life, needless to say I hear nothing but good things about Alison Goodman's works. Yes I started reading "Eon" and loved it but alas I didn't get to finish it yet. YET.
That wraps up my first post about book releases in 2016 that I need in my life, there's definitely more to come!
I hope you guys found some interesting books to add to your TBR's as well, that way we can all fangirl together! Woohoo!