Book Tag Thursday is a weekly meme hosted by Michelle at Book Adventures, be sure to check it out because book tags are tons of fun!
The Seasons of Book Blogging Tag was originally created by Jordyn at J Bookish.
The Rules:
Thank the creator (so she can see your answers) and the person who tagged you.
Begin with the month in which you have been tagged and move forward from there.
State the best gift you've ever been given after you answer the question for your birthday month.
Tag whomever you'd like to when you're finished, or else you'll be "it" forever.
Have fun!
 January begins a new year. Name a resolution you made this year and if you've kept it or not!
I'm not really one for making resolutions, but I suppose one that I made would be to read more books this year and better myself at blogging. I'm currently WORKING on keeping that resolution, it's kind of an all year thing.
February is the month for relationships. Name your favorite book relationship: romantic, platonic or familial, your choice!
Um there's so many really! I think I'll go with the one I'm currently reading: Mather and Meira from "Ice Like Fire" or in general the Snow Like Ashes series. I ship it, I ship it so much.
March is the month for luck and new beginnings. Name a book or series that you would like to re-experience as if you'd never read it. 
There's so many options! Besides Harry Potter (which I'm sure everyone would pick), I think I'd love to re-experience Richelle Mead's Vampire Academy series. There were more than a couple twists and I'd love to re-read them without KNOWING what will happen.
April is a spectacularly ordinary month. Name a book that was so over-hyped that it just could not live up to your expectations.
"Cinder" or pretty much the entire Lunar Chronicles series but I only read "Cinder". Sorry! Don't kill me, but I thought it was really boring and predictable. Mostly predictable. I say the big ending plot twist coming a mile away and when that happens the book really isn't that fun for me. That series is incredibly over hyped, everyone and their grandma loves that series so really there was no way that book would have lived up to my expectations.
May is the month when flowers start to bloom. Name a book that was a pleasant surprise to you. 
I'm going to have to go with "The Killing Jar" by Jennifer Bosworth, I went in with zero expectations and was definitely pleasantly surprised that I liked it. It's not anything mind blowing but it was a good book.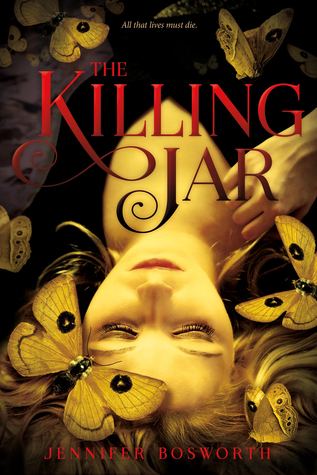 June is the time to take a break. Name a book or genre that you like to read when you just need to check out.
Fantasy, hands down. There's nothing better than getting lost in a fantasy world with great world building, definitely takes my mind off of things.
July is the time to celebrate your independence! Name a book that made you see fireworks (Figuratively. Please don't light books on fire).
Not really sure how to answer this so I'll just go with "Vicious" by V.E. Schwab because when I read it I was just super pumped the entire time. If I had to put that book down I was pretty much twitching with impatience, waiting to pick it back up again.
August is the hottest month of the year. Pick an up-and-coming author that you think will be the next hottest thing.
I haven't really read any debuts recently, so I have no one to pick for this really. Especially debut others everyone doesn't already love. Sorry!
September is time for students to go back to school! Pick a book you read for school that you actually enjoyed.
"The Outsiders" by S.E. Hinton, I read it when I was in 7th grade and it was really one of the only mandatory books that I liked. Plus have you seen the movie? Can't go wrong with that cast of actors!
This is also my birthday month but I honestly can't say what the best gift I've ever been given is. I'm lame, I know but I get much better presents for Christmas. Usually for my birthday I get books, nothing too special.
October is time to celebrate Halloween! Pick one character that you would love to dress-up as for Halloween.
Daenerys Targaryen probably, I'm sure there a lot more other ones but she'd be a lot of fun. More specifically in her Dothraki outfit, because that's a little more badass than the dresses she usually wears.
November is the when we're reminded of how much we have to be thankful for. Choose one book you're grateful for having read and give a shout-out to the person who recommend it!
I'm definitely thankful I read the entire A Song of Ice and Fire series and nobody recommended to to me so I can't do a shout-out.
December is a time when friends and families come together and celebrate. Name one book you would give as a gift. 
"The Hobbit" by J.R.R. Tolkien. Not only is it a classic but everyone should have that magic in their lives.
Tag! You're It:
I'm going to tag some of the newest bloggers I've followed!
(Please don't feel obligated to do this tag if you don't really want to)
Kiwi @ Kiwi Reads
Calliope @ The Book Goddess
Kelly @ Stellar Scrutiny
Ali @ Arctic Books
Evie @ Just Another Belle