I honestly have a ton of post ideas that can be linked with Valentine's Day and I may yet do some! First and for most I have to do a list of all my favorite book couples, which I don't have many since I usually loathe romances in books. That is unless they're done VERY well, but what can I say I'm picky.
Guaranteed I won't get them all but these are the ruling couples of my heart at the moment. Some may not be an "official" couple yet since a lot of them don't have a completed series as of right now, so I just ship them……but shhhhh it's okay.
I'll also be using some fanart for these characters so I'll try my best to credit the artists, but I probably won't find them all. So if you see your artwork on here let me know so I can credit you!
Meira & Mather
Snow Like Ashes

(artwork by Agustina Zanelli)
Sorry, I couldn't find ANY Mather fanart. What's up with that? All of the fanart was Meira with Theron, and I detest Theron. Am I the only Meira/Mather shipper here?
The Snow Like Ashes series is still on-going so Meira hasn't officially chosen one of the two men BUT my heart is HOPING that she chooses Mather. Usually I don't much care for love triangles and I don't care who the character ends up with but I just ship Meira/Mather SO HARD. They're both so fierce and loyal to their kingdom, they belong together I tell you! Maybe I ship them so hard because I just really hate Theron……
Kaz & Inej
Six of Crows

(artwork by Grace at Fictograph)
All six of the "crow" characters in "Six of Crows" get paired off into a couple, while not all of them are very pronounced at the moment the feelings are all there. My favorite couple BY FAR would be Kaz and Inej, I love both of them singularly and I love them both together. When they finally get together my heart will probably soar, they're both just so….badass.
Rose & Dimitri
 Vampire Academy

(Portrayed by Zoey Deutch & Danila Kozlovsky)
I couldn't find any fanart I liked of them so here's the Rose and Dimitri from the Vampire Academy movie. Which sucked kind of. They are not nearly as attractive as they should have been, sorry not sorry, Rose and Dimitri are both supposed to be hotter than the deepest fieriest pit of Hell okay? Not…..this.
Anyways. They're one of my favorites, talk about the perfect badass, stake-wielding couple. I loved Rose as a character and I loved Dimitri as a character so them being together just makes sense.
Aragorn & Arwen
The Lord of the Rings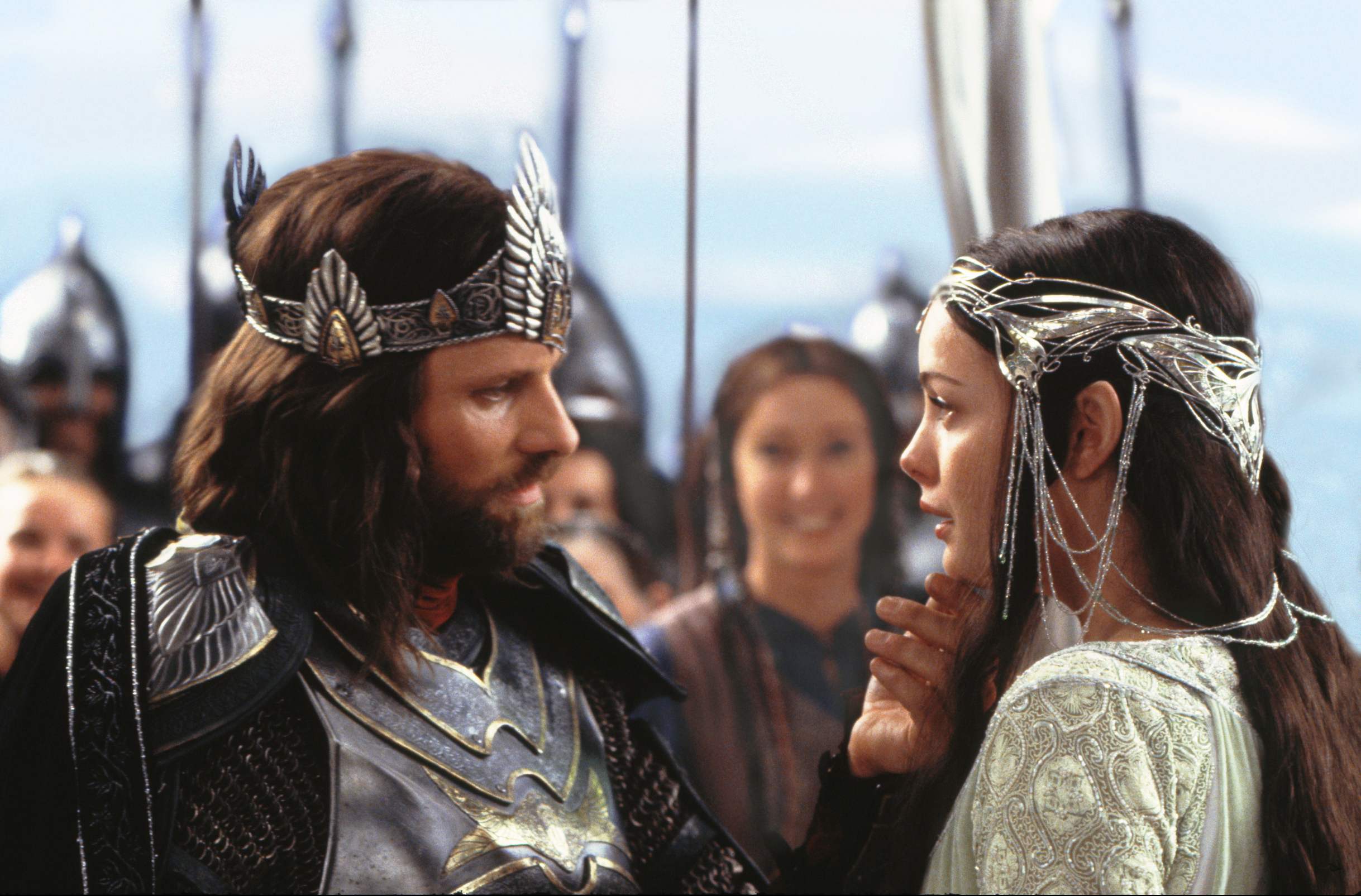 (Portrayed by Viggo Mortensen & Liv Tyler)
By far my favorite couple, mostly because I'm a huge Lord of the Rings junkie. That's kind of all I have to say about them…I love them because I love Middle-Earth and they're the one couple to rule them all……
Khalid & Shahrzad
The Wrath & The Dawn
I couldn't find any fanart and I didn't like any of the fan-made picture collages so here's the book cover because at least that is Shazi.
Now as you all know by now, I'm not a romance fan. So it was very surprising that I LOVED "The Wrath & The Dawn", I mean I got the warm fuzzies reading it! I loved Khalid and Shazi and I shipped them so much. Which is rare, but Renee Ahdieh did a fantastic job with not only the book but their romance. Seriously it was perfect enough to melt even my cold, icy heart.
Kell & Lila
A Darker Shade of Magic
(artwork done by Victoria Ying)
Who isn't shipping this? Because I am and it makes it so much worse that they haven't gotten together! I want it so bad, my poor little heart can't take it! I'm hoping by the third book something happens. Just give me something V.E. Schwab, anything!
Daenerys Targaryen & Khal Drogo
A Song of Ice and Fire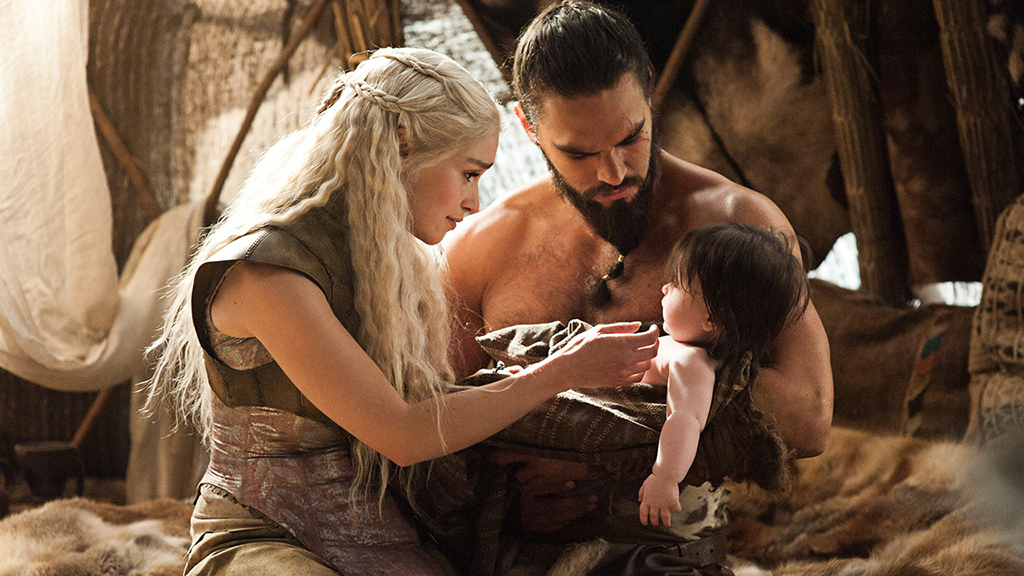 (Portrayed by Emilia Clarke & Jason Momoa)
Don't even get me started on these two, sure their relationship wasn't that great at the beginning but it grew into such perfection. I will always ship Daenerys with Drogo, forever I tell you! She belongs with no one else in my mind. When anything else happens in the show or the books I will visualize crudely pasting  Jason Momoa's face on any other men.
I love them as much as I love Aragorn & Arwen, that's saying a lot I assure you.
That is all.
Bonus Ships!
These are couples I ship that didn't end up together……
Harry Potter & Hermione Granger
Harry Potter
(Portrayed by Daniel Radcliffe & Emma Watson)
Sorry, not sorry. I always liked the idea of Harry with Hermione better! I'm not a big fan of Ginny or Ron, really my favorite Weasley children were always Fred and George. I digress, I really hated that Hermione ended up with Ron I just don't think they fit together well and the same goes for Harry and Ginny. Actually I should say especially Harry and Ginny. I felt that kind of came out of nowhere honestly…..I never felt a real connection between those two.
Sorry, I can really get rambling on the Harry Potter couples!
Katniss Everdeen & Gale Hawthorne
The Hunger Games
(Portrayed by Jennifer Lawrence & Liam Hemsworth)
Once again, sorry not sorry! I thought Gale and Katniss were more perfect than Peeta and Katniss. Their personalities and loyalties were more similar. Yes, I get that "opposites attract" and that's pretty much the only reason she ended up with Peeta because honestly Peeta is kind of a little wimp.
I just thought Gale and Katniss should have ended up together, I liked them better!
That completes my list of ships, that's pretty much all of them that are important anyways. I don't even care if they don't work out!
Are there any ships you agree with on this list? Any that you don't? Who's your favorite book couple? Let me know in the comments!