Top Ten Tuesday is a weekly meme hosted by The Broke and The Bookish.
This week's theme was Top 10 Reasons I Love X, so basically this is your chance to rant and rave and gush about whatever you want! Honestly I do sometimes get tired of making lists of books specifically so now is my time to share my love of book blogging! Although I'm sure there are tons of people who have also done this same topic I'm doing it anyways, I just have a lot of feelings about this wonderful blogging community. Also these reasons are in no specific order.
10.) It's A Fun Hobby
Now this is coming from a person who doesn't have a ton of hobbies.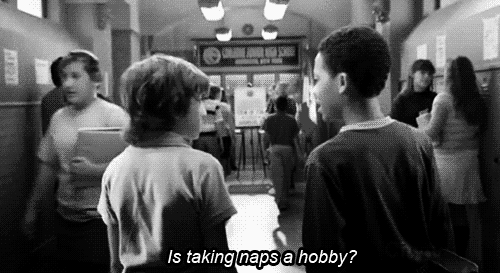 So blogging is definitely in my top 5 favorite recreational things to do. I like the sense of purpose it gives me and keeps me motivated to read and write!
9.) I Get To Write (About Something That I Care About)
I adore writing in general and since I don't exactly have a lot of writing goals these days I like that book blogging gives me great ideas to write about and share with people. I also really enjoy typing so there's that too.
8.) Books, Books, Books
This is pretty obvious right? I love that book blogging brings so many more books into my life! Just reading reviews and getting recommendations opens up all kinds of new doors when it comes to books options.
7.) Book Recommendations
I kind of mentioned this in the previous reason BUT it's so important it needs to get discussed on its own. Have I ever told you guys how much I love getting book recommendations? Because I love them. There's almost nothing better than having a fellow book lover recommend you a new book that they loved and want to share with you as well! I also like to do some recommending myself I mean come on who doesn't want to push their favorite books onto people?
6.) It Keeps Me Up To Date With New Releases
I remember a time when I would waltz into a bookstore and wander around aimlessly hoping to stumble upon a book I would like. To be honest I didn't enjoy that too much. There were books that got released and I didn't even know about them! Book blogging definitely keeps me up to date with what new books are being released and if I would enjoy them or not.
5.) Being Able To Connect With Authors and Publishers
I haven't exactly done a TON of this yet but I have done a few tweets or Instagram posts where authors have commented back and let me tell you that is FUN. Authors (to us book bloggers and lovers) are definitely celebrities and when they take the time out of their day to respond to you it really makes you feel like a rockstar. I love that blogging gives me more of a chance to get to know my favorite authors better!
Also being able to connect with publishers is pretty great too it keeps you up to date on new releases as well as potentially receiving ARCs. And come on ARCs are pretty exciting right?
4.) Getting To Read ALL Opinions On Books
I actually like being able to read both positive and negative opinions on books it gives me a chance to REALLY see if I should give that book a chance. Positive reviews let me know what I will potentially love about a book and negative reviews let me know what I potentially won't like about a book. Both are great and book blogging does a great job of opening my eyes to all kinds of different opinions on books.
3.) Getting To Share My Own Opinions On Books
Of course if I like reading other opinions so it would just go to show that I like sharing my own opinion as well. Gives me a chance to rant and rave about books I've read, both good and bad!
2.) Being Able To Chat Books With Other Bloggers
One of my absolute favorite parts of book blogging is being able to talk about books obviously! I don't have many friends or family members who love books as much as me so being able to talk about books in the book blogging community is an absolute joy. I mean who better to chat books with than other book lovers? And this blogging community has THOUSANDS of book lovers to talk with!
1.) The Other Book Lovers and Bloggers
Yes, you wonderful readers and fellow bloggers are my absolute favorite part of being a book blogger. I love everything from getting recommendations of your favorite books to just fangirling over our favorite characters together! Sure I love the books and sharing my thoughts but honestly that wouldn't be anything if not for you awesome people reading and sharing comments.
You are what makes book blogging an absolute joy for me and I thank you all!
What are your favorite parts about book blogging?
Are any of your favorite reasons here on my list?
Is your favorite part the community and people as well?
Do you find book blogging to give you motivation or a sense of purpose?
Is book blogging one of your favorite hobbies?
What was your Top Ten Tuesday list theme this week?
Feel free to link up your TTT as well!