Top 5 Wednesday is a weekly meme hosted by Sam @ Thoughts on Tomes and created by Lainey @ Ginger Reads Lainey. You can check out the group's Goodreads page for this month's topics!
This week's topic is pretty self explanatory and I love listing off my favorites of any topic but names will be easy and hard at the same time. I have so many I love it'll be hard to narrow down but overall I think that it's safe to say these are names I would name my children so you know I'm serious about them, haha!
5.) Finnick
( Finnick Odair; The Hunger Games)
Because everyone loves Finnick Odair right? Of course you do! I always thought the name Finnick was very unique but not too odd. Also I don't think anyone would mind being named after this guy.
4.) Luna
(Luna Lovegood; Harry Potter)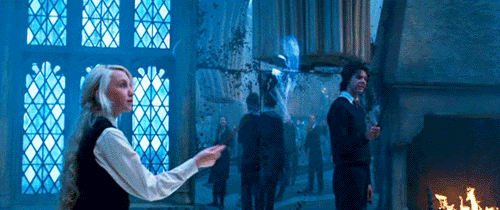 Luna Lovegood is one of my favorite characters in the Harry Potter series and I adore the name as well. Plus I'm a Ravenclaw too!
3.) Arwen
(Arwen Undomiel; The Lord of the Rings)
Arwen is one of my favorite LOTR characters, alongside Eowyn, don't get me wrong I love pretty much all of the characters but I love how beautiful the name Arwen sounds.
2.) Ronan
(Ronan Lynch; The Raven Cycle)
Sorry no pictures for this one! I was too afraid to look in case of spoilers!
So it's pretty obvious that Ronan is my favorite character so far in The Raven Cycle series but also I can't get over how awesome the name in itself sounds. Ronan. Pretty much screams badass.
1.) Daenerys
(Daenerys Targaryen; A Song of Ice and Fire)
I can almost guarantee this name is on everyone's list today because not only is it a beautiful sounding name but also Daenerys Targaryen is a badass, I would definitely name a child after her period.
Are any of these names a favorite of yours too?
Would you name a child after any of these or other fictional characters?
What names were on your list this week?
Feel free to link up your T5W as well!