Christmas is in 3 days! Woohoo! Let's get into the Christmas spirit with a Christmas book tag! I was tagged to do this by my blogging bestie Michelle @ Book Adventures so make sure to head over and check out her answers for this tag and give her a follow!
Anticipation – The Christmas excitement is real, what book release(s) are you most anticipating.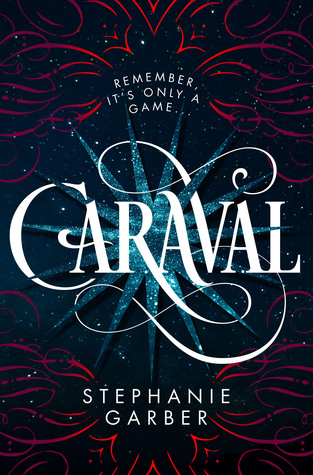 I'm definitely the most excited for these 4 books "Carve The Mark" and "Caraval" both come out in January and "Daughter of the Pirate King" and "Empress of a Thousand Skies" come out in February.
I'm on a sci-fi kick so I want all of the YA sci-fi I can get, I also have been dying for an actual YA pirate book, and "Caraval" is super hyped and has tons of great reviews so I want to see what that's all about.
---
Christmas Songs & Carols – What book or author can you not help but sing it's praises.
I would go with Jay Kristoff because since reading 4 of his books (all 5 star ratings except "Gemina" which got 4) this year I can't help but recommend them to everyone and sing his praises! If you love brutal, fast-paced, and great plot twists I'd recommend checking out his books.
---
Gingerbread Houses – What book or series has wonderful world building.
Okay well besides all of  Kristoff's books that I just mentioned I'd have to say "Daughter of Smoke and Bone" by Laini Taylor has some fantastic world-building! I can't wait to continue on with the series too.
---
A Christmas Carol – Favorite classic or one that you want to read.
I don't read a lot of classics because I find it hard to get into the writing a lot of the time. My favorite classic is "The Hobbit" by JRR Tolkien though.
---
Christmas Sweets – What book would you love to receive for Christmas.
Of course there are LOADS of books I'd like to get for Christmas but they one I'm looking for the most is "The Night Circus" because tons of people love it and recommend it (Michelle included!) and I really need to read it.
---
Candles in the Window – What book gives you that warm fuzzy feeling.
I don't read a lot of books that are warm or fuzzy but this book ,while tragic at times, was absolutely magical and adorable.
---
Christmas Trees & Decorations – What are some of your favorite book covers.
Apparently I have a weakness for purple…..
---
Christmas Joy – What are some of your favorite things about Christmas.
Getting to spend time with family and friends first of all because that's important of course! Then I'll have to go with Michelle and say Christmas lights because they're just so pretty, I love driving around and looking at Christmas lights. Lastly I'll say gifts both giving and receiving I looooove Christmas gifts!
I'm not going to tag anyone this time around since I feel I've been racking up tags for everyone so if you want to do this tag go right ahead!