Time for another month's TBR that I may or may not actually end up sticking too! Actually this month I HAVE to pretty much stick to it because 3 of these books are ARCs that I have to read and review.
Let's just get right into it!
Night Film by Marisha Pessl
On a damp October night, beautiful young Ashley Cordova is found dead in an abandoned warehouse in lower Manhattan. Though her death is ruled a suicide, veteran investigative journalist Scott McGrath suspects otherwise. As he probes the strange circumstances surrounding Ashley's life and death, McGrath comes face-to-face with the legacy of her father: the legendary, reclusive cult-horror-film director Stanislas Cordova—a man who hasn't been seen in public for more than thirty years.
For McGrath, another death connected to this seemingly cursed family dynasty seems more than just a coincidence. Though much has been written about Cordova's dark and unsettling films, very little is known about the man himself.
Driven by revenge, curiosity, and a need for the truth, McGrath, with the aid of two strangers, is drawn deeper and deeper into Cordova's eerie, hypnotic world.
The last time he got close to exposing the director, McGrath lost his marriage and his career. This time he might lose even more.
I'm actually currently reading this book and it is AMAZING! There has yet to be a dull or uninteresting part which is quite the feat since this book is about 600 pages long. Seriously it's definitely a book to get you out of a reading slump and I'm 99% sure it will be getting a great review from me!
---
Everything I Never Told You by Celeste Ng
Lydia is dead. But they don't know this yet.
So begins this exquisite novel about a Chinese American family living in 1970s small-town Ohio. Lydia is the favorite child of Marilyn and James Lee, and her parents are determined that she will fulfill the dreams they were unable to pursue. But when Lydia's body is found in the local lake, the delicate balancing act that has been keeping the Lee family together is destroyed, tumbling them into chaos.
A profoundly moving story of family, secrets, and longing, Everything I Never Told You is both a gripping page-turner and a sensitive family portrait, uncovering the ways in which mothers and daughters, fathers and sons, and husbands and wives struggle, all their lives, to understand one another.
I actually just added this one to my TBR and it sounds really intriguing and since my library has an e-copy I borrowed one so it's currently awaiting me on my Kindle. I have a good feeling about it though and it isn't very long so it SHOULD be a semi-quick read.
---
The Walking Dead Volumes 2 & 3 by Robert Kirkman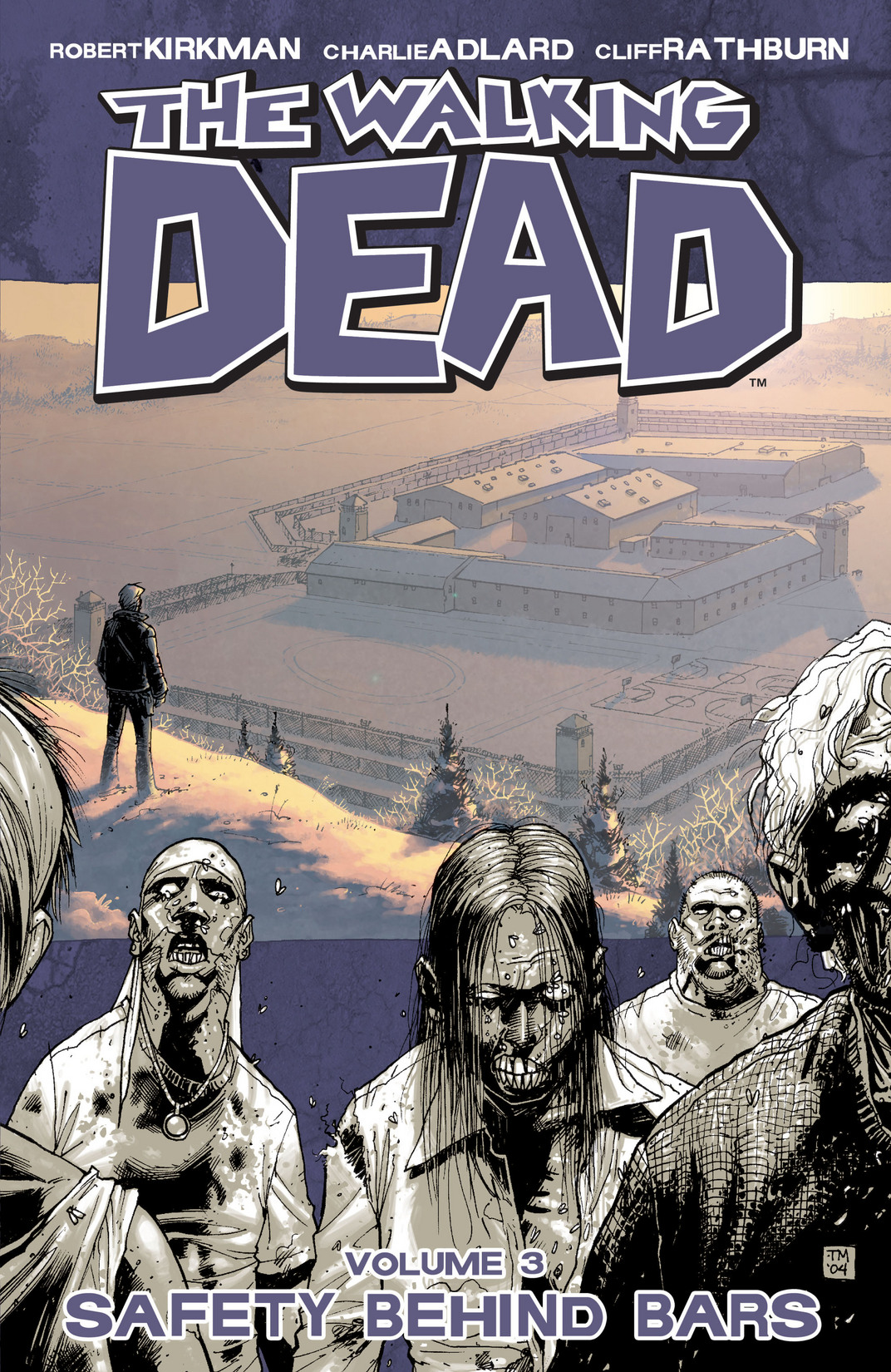 I just read Volume 1 and really enjoyed it since I also enjoy the TV show so I borrowed the next two volumes from the library as well!
---
Exo by Fonda Lee
It's been a century of peace since Earth became a colony of an alien race with far reaches into the galaxy. Some die-hard extremists still oppose alien rule on Earth, but Donovan Reyes isn't one of them. His dad holds the prestigious position of Prime Liaison in the collaborationist government, and Donovan's high social standing along with his exocel (a remarkable alien technology fused to his body) guarantee him a bright future in the security forces. That is, until a routine patrol goes awry and Donovan's abducted by the human revolutionary group Sapience, determined to end alien control.
When Sapience realizes whose son Donovan is, they think they've found the ultimate bargaining chip . But the Prime Liaison doesn't negotiate with terrorists, not even for his own son. Left in the hands of terrorists who have more uses for him dead than alive, the fate of Earth rests on Donovan's survival. Because if Sapience kills him, it could spark another intergalactic war. And Earth didn't win the last one . . .
This was one of the ARCs I received for review and its release date is January 31st so I need to get-a-reading it! I've had really good luck with YA sci-fi books lately so hopefully the same goes for this.
---
Wintersong by S. Jae-Jones
Beware the goblin men and the wares they sell.
All her life, nineteen-year-old Liesl has heard tales of the beautiful, mysterious Goblin King. He is the Lord of Mischief, the Ruler Underground, and the muse around which her music is composed. Yet, as Liesl helps shoulder the burden of running her family's inn, her dreams of composition and childish fancies about the Goblin King must be set aside in favor of more practical concerns.
But when her sister Käthe is taken by the goblins, Liesl journeys to their realm to rescue her sister and return her to the world above. The Goblin King agrees to let Käthe go—for a price. The life of a maiden must be given to the land, in accordance with the old laws. A life for a life, he says. Without sacrifice, nothing good can grow. Without death, there can be no rebirth. In exchange for her sister's freedom, Liesl offers her hand in marriage to the Goblin King. He accepts.
Down in the Underground, Liesl discovers that the Goblin King still inspires her—musically, physically, emotionally. Yet even as her talent blossoms, Liesl's life is slowly fading away, the price she paid for becoming the Goblin King's bride. As the two of them grow closer, they must learn just what it is they are each willing to sacrifice: her life, her music, or the end of the world.
Another ARC I received for review with a release date of February 7th and isn't the cover just gorgeous? This is also apparently a retelling of the movie Labyrinth (which I have not seen, I'm sorry!) but it should prove to be something new and unique!
---
The Dragon's Price by Bethany Wiggins
When two warring kingdoms unified against a deadly menace laying waste to both their lands, they had to make a choice: vow to marry their heirs to one another, or forfeit their lives to the dragon.
Centuries later, everyone expects the sheltered princess Sorrowlynn to choose the barbarian prince over the fire-breathing beast—everyone, that is, except Sorrow, who is determined to control her own destiny or die trying.
As she is lowered into the dragon's chamber, she assumes her life is over until Golmarr, the young prince she just spurned, follows her with the hopes of being her hero and slaying the dragon. But the dragon has a different plan. . . .
If the dragon wins, it will be freed from the spell that has bound it to the cave for centuries. If Sorrow or Golmarr vanquish the dragon, the victor will gain its treasure and escape the cave beneath the mountain. But what exactly is the dragon hiding?
There are no safe havens for Sorrow or Golmarr—not even with each other—and the stakes couldn't be higher as they risk everything to protect their kingdom.
Yet another ARC I got for review and it just sounds SO GOOD because…..dragons. However, I'm a little leery because it's a YA Fantasy and I'm hoping that this one isn't riddled with the usual tropes and cliches. This book is being released on February 21st which may mean I won't get to it until the beginning of February if I run out of time this month.
---
Traveler by L.E. DeLano
Jessa has spent her life dreaming of other worlds and writing down stories more interesting than her own, until the day her favorite character, Finn, suddenly shows up and invites her out for coffee. After the requisite nervous breakdown, Jessa learns that she and Finn are Travelers, born with the ability to slide through reflections and dreams into alternate realities. But it's not all steampunk pirates and fantasy lifestyles…Jessa is dying over and over again, in every reality, and Finn is determined that this time, he's going to stop it… this Jessa is going to live.
I actually JUST recieved this ARC for review so I had to last minute add it to my TBR since it comes out February 7th! I thought the premised sounded interesting enough to give it a shot and the cover is very pretty.
Have you read any of these books?
Are any of these books on your TBR?
Are you excited for any of these new releases?
What are you planning on reading this month?
Let me know in the comments!