So I was going to get this up last week and didn't because I chose to do other posts instead, but hey better late than never! I'm going to be a little ambitious this month since I hate when my Goodreads reading challenge says I'm 5 books behind…..
I will link each title to their Goodreads page as well!
In Real Life by Cory Doctorow & Jen Wang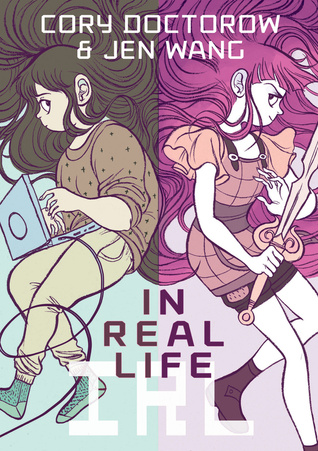 This is a graphic novel about a MMORPG (Massive Multiplayer Online Role Playing Game) and a girl, Anda,  who loves and plays it to escape reality. She then meets a poor Chinese boy who uses the game to earn money, which is also illegal in the game. Anda then must learn to understand that right and wrong isn't as straightforward as she once believed.
I really love short, standalone graphic novels such as this and I need some quick reads to get my Goodreads reading challenge back on track so this was an easy pick!
---
The Hundredth Queen by Emily R. King
An eighteen year old girl, Kalinda, lives life in  the Sisterhoods' orphanage and is destine for nothing more than living in seclusion and prayer. However, one day the Rajah shows up and takes her away so she must fight to the death for a place among his ninety nine wives and many courtesans. Kalinda must awaken her power in order to escape her fate.
I received an ARC of this book and since it comes out June 1st I will be reading it this month and letting you all know if it's worth checking out. I love all of the Middle Eastern YA Fantasy lately so hopefully this is just as good!
---
Ruth Carver wakes up concussed in the bed of a moving truck and is taken out to a remote cabin in the Blue Ridge Mountains. She then comes face to face with a serial killer who believes it's his job to punish bad girls like her and she escapes into the wilderness.
This is another really short book (only 256) that I hope is thrilling enough to read quickly, I think it sounds very suspenseful and intense.
---
Every Heart A Doorway by Seanan McGuire
Another very short book about a Home for children except these children are the ones you read about in stories, The Chosen Ones, after their fantasy worlds have used them all up.
Loads of people have loved this book and I think the concept sounds fascinating so I'm excited to finally read it!
---
The Ocean at the End of the Lane by Neil Gaiman
A middle aged man returns home to attend a funeral and finds himself drawn to a house at the end of the lane he used to live on. He finds himself remembering people and thins he hadn't thought of in years. He remembers the girl, Lettie, and the suicide that occurred that also unleashed something dark that Lettie promises to protect him from.
That's a terrible description on my part but how does one even explain a Neil Gaiman book? I absolutely ADORE his works so I'm excited to finish this one up since it's also a very short book!
---
You Will Know Me by Megan Abbott
Katie has dedicated her life to her 15 year old daughter's gymnastics career and when there's a death in the group she feels threatened especially since it's weeks before an important competition. There are secrets, allegiances, and the murder itself  that all draw Katie in.
I have yet to read a book by Megan Abbott but they all sound super dramatic in the way that keeps your attention so I'm excited to give her a try! Also I've been on a gymnastics kick since I watched one of my teenage favorites "Stick It"which is a great movie by the way…. I've also been waiting forever to read this since I've had it on hold at the library for over a month but I'll FINALLY  get it this month sometime!
---
The Alchemists of Loom by Elise Kova
This is a steampunk, fantasy novel where the Five Guilds' resistance falls under the power of the Dragon King and the main character, Ari, uses her mechanical and magical skills to steal and rebel against their oppressors. Cvareh, will do anything to put his sister on the throne and the Alchemists of Loom may be able to do just that so he enlists the help of Ari.
I have yet to read any books by Elisa Kova but they're pretty hyped and I'm excited to give them a try, especially since I love YA Fantasy.
Are any of these books on your TBR?
Have you read any of these, what did you think?
What are you planning on reading this month?
Let me know in the comments!