Well I think it's safe to say that I'm getting better about sticking to my TBRs but also I always seem to be a little too ambitious! I still have 2 books left over from May (The Hundredth Queen and In Real Life) I'm currently working to finish too, not to mention I'm getting further behind in my Goodreads reading challenge. However, I do have a couple ARCs that I'm going to read this month as well as some books I feel are more summery-y.
The Disappearances by Emily Bain Murphy
After Aila and Miles' mother dies they return to live in her old hometown of Sterling where every seven years something disappears such as reflections, the scent of flowers, or even the ability to dream. The people of Sterling always suspected Aila's mother, Juliet, and now Aila must bear the blame as she follows her mother's clues to find out why the Disappearances really occur.
I actually received an ARC of this book and I'm very excited to get into it! It sounds like a very mysterious and magical story that might have some slower pacing but will probably still be interesting. Sometimes Magical Realism gets boring for me but I'm hoping this one will be good!
---
Lost Boy: The True Story of Captain Hook by Christina Henry
This is, obviously, a retelling of Peter Pan from Captain Hook's POV and also sort of an origin story for Hook too. It's also a very dark, horror retelling about how Hook went from being Peter's favorite Lost Boy to his greatest enemy.
First of all I am 100% down to read ANY Peter Pan retelling ESPECIALLY a dark, horror-y one, ESPECIALLY if it's by Christina Henry. This book is basically everything I have ever wanted! I really loved Henry's retelling of Alice in Wonderland so I'm expecting to love this one too. I will be receiving an ARC here sometime at the beginning of the month and I'm pumped!
---
Dangerous Girls by Abigail Haas
A senior spring break trip to Aruba with friends, one ends up being murdered and the other is being accused for it. Anna must now try and find her friend's real killer.
Your typical YA thriller but maybe with a great twist? Who knows, all I know is everybody seems to love this one! Plus it definitely has a very summer-y vibe going on which makes this the perfect time to finally read it!
---
Queens of Geek by Jen Wilde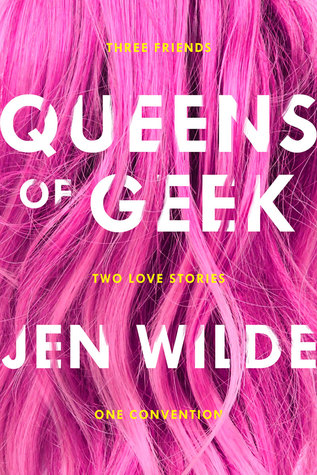 Three friends attend SupaCon where they expect to have fun but don't expect their lives to change forever. The tagline on the cover here pretty much says it all.
Everybody was ranting and raving about this book so I just had to grab a copy especially since it's only 288 pages! I also feel like this being a more "geeky" book I'll be able to relate a lot to the characters too!
---
Bonus Book! (If I'm actually ambitious and get to it!)
What We Saw by Aaron Hartzler
Kate remembers most of the things that happened at John Doone's part: pictures with Stacey and Ben getting her home early and maybe becoming more than just a childhood friend….However, a picture appears the next day online of Stacey passed out at the party and presses charges against four classmates, Kate questions if she really had all the details that night especially where Ben was when the crime occurred.
It actually took me a long time to decide I could stomach this book, everyone really loves this one and I wanted to give it a try. The reason I wasn't too sure about this one is because the central story revolves around a gang-rape and I honestly get really squirmy and squeamish with anything dealing with sexual abuse, but I think it will be a very worth while story regardless.
Are any of these books on your TBR?
Have you read any of these, what did you think?
What are you planning on reading this month?
Let me know in the comments!