Top Ten Tuesday is a weekly meme hosted by Jamie @ The Broke and the Bookish.
This week's theme is any books of any genre that you've added to your TBR recently! I decided to go with fantasy just because it's my favorite genre so this is really going to be quite the mish mash of books since it went a little further back than I expected.
These are put in order by when I added them so the most recent starts at #10.
10.) Down Among The Sticks and Bones by Seanan McGuire
I immediately added this after finishing "Every Heart A Doorway" because it was so amazing, I need more of this world…or really worlds!
You can read my full review of "Every Heart A Doorway" here.
---
9.) A Torch Against the Night by Sabaa Tahir
Once again I added this sequel immediately after finishing "An Ember in the Ashes"! I was actually really blown away by how unique the book felt and how complex the characters were, so of course I need to read more about them ASAP!
You can read my full review of "An Ember in the Ashes" here.
---
8.) The Tiger's Daughter by K. Arsenault Rivera
Honestly this book sounds straight up awesome! There's two completely badass female warrior protagonists that were prophesied at birth to save the  world from demons. How does that not sound like it's amazing?
---
7.) The Alchemists of Loom by Elise Kova
I've heard a lot of ranting and raving about Elise Kova's books and her newest one was on sale for $0.99 on Kindle so I bought a copy! I want to see what all the hype is about! Plus I like any story where a thief is the main character, especially in a fantasy setting.
---
6.) Beasts Made of Night by Tochi Onyebuchi
This one definitely has a very unique sounding premise where the character, Taj, serves as a slayer of sin-beasts which are called forth from sinners by mages. Doesn't that just sound cool? Never heard of a book with anything really similar to this so I had to add it to my TBR.
---
5.) Library of Fates by Aditi Khorana
First of all I was really drawn in by the cover, it's gorgeous! Plus what book lover doesn't want to read a book that has library in the title? This one is about two women whose lives are thrown into chaos and must seek out the fabled Library of All Things to try and reverse their fates. Sounds awesome!
---
4.) Kiss of Deception by Mary E. Pearson
Honestly, I wasn't going to ever add this one but since the series seems pretty hyped up and it is YA fantasy I figured maybe I could give it a try. It might be a little too cliched for me though.
---
3.) The Language of Thorns: Midnight Tales and Dangerous Magic by Leigh Bardugo
While I wasn't the biggest fan of "Shadow and Bone" I did love "Six of Crows" and am therefore a lot more willing to try out anything Leigh Bardugo writes! Of course I love any stories based off of folklore and fairy tales too so this book is bound to be interesting!
---
2.) Mask of Shadows by Linsey Miller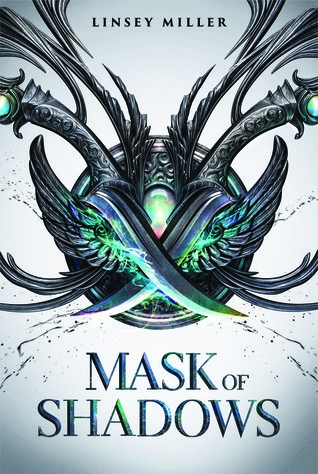 It's mostly a guarantee for me to add any new or upcoming YA Fantasy books but especially when they have diverse characters. This book has a gender fluid character that's also a thief and like I said earlier I love thief characters in fantasy!
---
1.) The Bird & The Sword by Amy Harmon
This was another book I found on sale for my Kindle and I wasn't really going to get it since I hadn't heard of it before but I read a sample and fell in love! Of course I haven't read it yet clearly but it definitely will be read here at some point. It's about a girl who has magical abilities and must not speak at all.
Have you read any of these? What did you think?
Do you have any of these books on your TBR as well?
What are some books you've recently added to your TBR?
Let me know in the comments!