What better day to do this than the literal last day of the year? This is an annual survey created by Jamie @ The Perpetual Page Turner so go check it out if you'd like to join in on this as well!
Number Of Books You Read: 83
Number of Re-Reads: 0
Genre You Read The Most From: Fantasy (Young Adult)
1. Best Book You Read In 2017?
My favorite 2017 release has got to be "The Hate U Give" and my favorite backlist book is "Red Rising", either way both books pretty much emotionally destroyed me.
(You can read my full reviews of The Hate U Give & Red Rising here, they are mentioned a lot throughout this survey!)
---
2. Book You Were Excited About & Thought You Were Going To Love More But Didn't?
Yep, with the gorgeous cover and the fantasy/horror vibes I got from the synopsis I thought this one was going to be waaaay better but in the end it was just really messy, slow, and confusing.
(You can read my full review here.)
---
 3. Most surprising (in a good way or bad way) book you read?  
There are a couple but I'll have to go with "Queens of Geek" since I probably wouldn't have picked it up if it weren't for all the glowing reviews. I usually hate contemporary books and definitely ones that are romance driven but this one had so much diversity and geekiness that it ended up being a ton of fun!
(You can read my full review here.)
---
 4. Book You "Pushed" The Most People To Read (And They Did)?

I am not sure whatsoever since I push a lot of books and also nobody really tells me if they read something or not? So. No idea. ****Pssst, if you're reading this and DID read something because of me please let me know!****
---
 5. Best series you started in 2017? Best Sequel of 2017? Best Series Ender of 2017?
Series Starter: "Red Rising" because I am 100% ready to devour the rest of the trilogy!
Sequel: "The Empress" I was not prepared to be blown away with this one but I was, so many brutal plot twists!
Series Ender: None
---
 6. Favorite new author you discovered in 2017?
I'm going to have to go with Angie Thomas the author of "The Hate U Give" because I will definitely be adding her books in the future she writes like a PRO!
---
7. Best book from a genre you don't typically read/was out of your comfort zone?

Definitely "Queens of Geek", again. As I already mentioned it was not only contemporary but romance which are two genres I don't really go for.
---
 8. Most action-packed/thrilling/unputdownable book of the year?

I could easily go with "Red Rising" again but I'll go with "An Ember in the Ashes" since that one was pretty much CONSTANT action and I definitely could not put it down!
(You can read my full review here)
---
 9. Book You Read In 2017 That You Are Most Likely To Re-Read Next Year?
I don't really re-read books ever because my TBR is ridiculous and I like to devote time to that instead but just to pick one for the sake of the question I'll go with "Every Heart a Doorway".
(You can read my full review here)
---
10. Favorite cover of a book you read in 2017?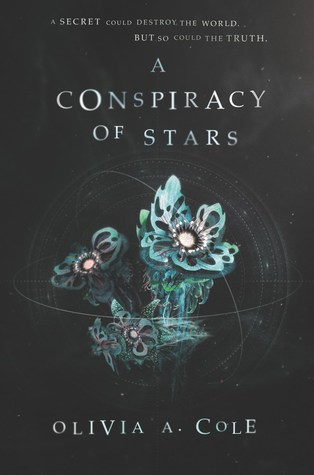 This is an ARC I have so it isn't out yet but technically I read it this year and the cover is just gorgeous.
---
11. Most memorable character of 2017?

Lucifer from "The Wicked + The Divine Vol. 1: The Faust Act". She definitely made an impression on me in just one graphic novel and she'll continue to be a favorite of mine!
---
 12. Most beautifully written book read in 2017?
"An Enchantment of Ravens" was very beautifully written! It reminded me very much of Laini Taylor's writing style.
(You can read my full review here)
---
13. Most Thought-Provoking/ Life-Changing Book of 2017?
DEFINITELY "The Hate U Give"! This is a book that really makes you think and take things into a different perspective.
---
 14. Book you can't believe you waited UNTIL 2017 to finally read? 
"Red Rising"! Why did I wait so long to read this masterpiece?!
---
 15. Favorite Passage/Quote From A Book You Read In 2017?
"Sometimes you can do everything right and things will still go wrong. The key is to never stop doing right." – Angie Thomas, "The Hate U Give"
---
16. Shortest & Longest Book You Read In 2017?
Shortest: Pretty Deadly, Vol 1: The Shrike by Kelly Sue Deconnick
Longest: Night Film by Marisha Pessl
---
17. Book That Shocked You The Most
There are actually a few (Red Rising and An Ember in the Ashes among them) but I think the book that honestly shocked me the most was "The Empress" because THAT book was constantly throwing twists at me, at one point there were 3 different twists on a single page and my mind was just reeling!
(You can read my full review here)
---
18. OTP OF THE YEAR (you will go down with this ship!)

Probably going to have to go with Monty + Percy in "The Gentleman's Guide to Vice and Virtue".
(You can read my full review here)
---
19. Favorite Non-Romantic Relationship Of The Year
Umm….is it weird if I say Darrow and Sevro as Howler besties? Because that's what I'm going with…
---
20. Favorite Book You Read in 2017 From An Author You've Read Previously
I absolutely loved Henry's horror Alice in Wonderland retellings and I adored her Peter Pan one as well, "Lost Boy: The True Story of Captain Hook"!
(You can read my full review here)
---
21. Best Book You Read In 2017 That You Read Based SOLELY On A Recommendation From Somebody Else/Peer Pressure:
The closest thing would probably have to be "The Night Circus" which literally every blogger has pushed on me! I loved it though!
---
22. Newest fictional crush from a book you read in 2017?
I've said this before and it's kind of odd but Sevro from "Red Rising"….I don't know I just really liked his character!
---
23. Best 2017 debut you read?
Once again "The Hate U Give"!
---
24. Best Worldbuilding/Most Vivid Setting You Read This Year?
"An Ember in the Ashes" had a very well fleshed out world and also is full of hardships and even magic.
---
25. Book That Put A Smile On Your Face/Was The Most FUN To Read?
"The Gentleman's Guide to Vice and Virtue" was so much fun to read, Monty's antics were hilarious at times!
---
26. Book That Made You Cry Or Nearly Cry in 2017?
Many, I actually get really emotional. But I was hardcore ugly crying multiple times while reading "Red Rising" especially at the beginning….
---
27. Hidden Gem Of The Year?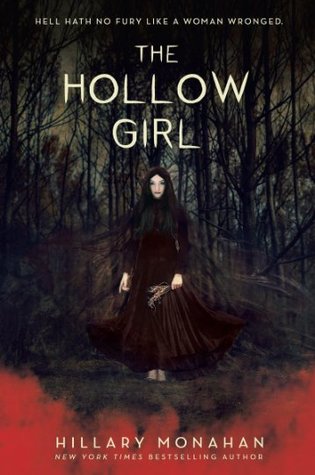 There are actually quite a few but I'm going with "The Hollow Girl" because it only has 162 ratings on Goodreads, that's it! I loved the diversity, the magic, the revenge arc, and the main character. It definitely isn't for everyone but it's a great book.
(You can read my full review here)
---
28. Book That Crushed Your Soul?
"The Empress" because I was put through so many brutal twists that I feel crushed for sure, especially after the cliffhanger at the end!
---
29. Most Unique Book You Read In 2017?
Maybe "The Seafarer's Kiss" because not only does it have an F/F romance but it's also a Little Mermaid retelling AND filled with Norse mythology. Definitely pretty unique.
(You can read my full review here.)
---
30. Book That Made You The Most Mad (doesn't necessarily mean you didn't like it)?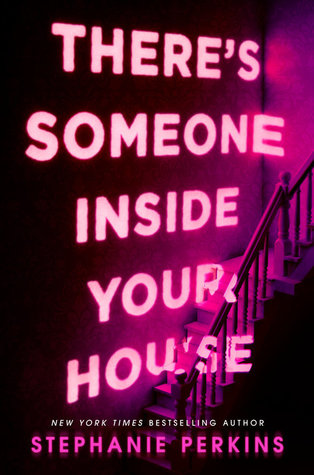 "There's Someone Inside Your House", I just feel really cheated.
1. New favorite book blog you discovered in 2017?
Howling Libraries! Destiny has been an absolutely fantastic blogging buddy and I am so fortunate to have met her this year!
---
2. Favorite review that you wrote in 2017?
Okay so I wrote a ton of reviews and I don't every really feel like one is better than the other but I guess here's a few of books I enjoyed a lot.
---
3. Best discussion/non-review post you had on your blog?
My post on how to request physical review copies!
---
4. Best event that you participated in (author signings, festivals, virtual events, memes, etc.)?
Top Ten Tuesday is pretty much always my favorite meme to participate in!
---
5. Best moment of bookish/blogging life in 2017?
Um, I guess I'm not really sure! I don't remember anything really substantial happening to me so maybe I'll go with getting approved for some ARCs on Edelweiss because I felt I never got approved on there!
---
6. Most challenging thing about blogging or your reading life this year?
Slumps! I had this happen a few times this year where I would either be in a reading or blogging slump and it's definitely a challenge to get back on track.
(But here is a post I made on how to beat them!)
---
7. Most Popular Post This Year On Your Blog (whether it be by comments or views)?
My Halloween Book Tag post, which is the most popular every year for some reason! I have no idea why!
---
8. Post You Wished Got A Little More Love?
Fantastic Book Settings and Where To Find Them, mostly because I laughed forever at my title…..
---
9. Best bookish discover (book related sites, book stores, etc.)?
I don't really have one….
---
10.  Did you complete any reading challenges or goals that you had set for yourself at the beginning of this year?
Just my Goodreads Reading Challenge which was set at 80 and I did finish it!
1. One Book You Didn't Get To In 2017 But Will Be Your Number 1 Priority in 2018?
STRANGE THE DREAMER BY LAINI TAYLOR. I don't know why I never got around to reading this one, I am ashamed!
---
2. Book You Are Most Anticipating For 2018 (non-debut)?
"The Boneless Mercies" because I NEED a feminist Beowulf retelling!!!!
---
3. 2018 Debut You Are Most Anticipating?
Probably "Children of Blood and Bone", it's a diverse YA fantasy and sounds so amazing and unique!
---
 4. Series Ending/A Sequel You Are Most Anticipating in 2018?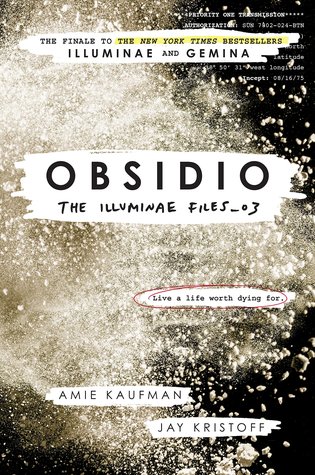 "Obsidio" by Amie Kaufman & Jay Kristoff!
---
5. One Thing You Hope To Accomplish Or Do In Your Reading/Blogging Life In 2018?
Cut down on my TBR because it's out of hand, seriously! I have way too many unread books on my shelves and a terrible book buying habit.
---
6. A 2018 Release You've Already Read & Recommend To Everyone (if applicable):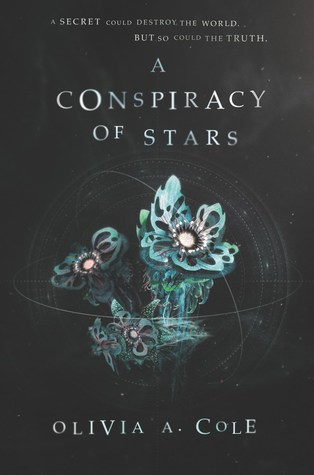 "A Conspiracy of Stars" it's seriously amazing you guys, it's a bit slow but really picks up in the second half and the world building is amazing (it's a YA Sci-Fi).
Here's to  a Happy New Year filled with reading books, everyone!