I was tagged by the lovely Lilly @ Lair of Books! So be sure to go over and check out her amazing blog and her answers for this tag as well! And thanks Lilly for tagging me I was secretly hoping someone would tag me for this since it looked fun!
1.) How many books are too many books in a series?
I'm going to have to agree with Lilly here and say more than 5 books. My attention span is just not that long and there are some series *cough House of Night cough* that don't need the ridiculous (over 10) amount of books!
---
2.) How do you feel about cliffhangers?
I have a very love/hate relationship with cliffhangers. On the one hand it's complete torture to wait a year or more for a sequel in order to know what happens next! But on the other hand there is no better guarantee for me to want your book desperately than to end with a good cliffhanger. So there's good and bad, I think in the end though I would say I love them more than I hate them.
---
3.) Hardback or paperback?
Once again….I like both! But if I have to choose one over the other I'd pick hardcovers, they're just easier to work with and when you read them they don't leave those creases in the spine.
---
4.) Favorite book?
This is probably the most unfair question to ever ask a book lover! Just one?! How about one of my recent favorites? "Circe" by Madeline Miller honestly one of the best books I've ever read! I definitely recommend it to anyone and everyone but especially if you love Greek mythology.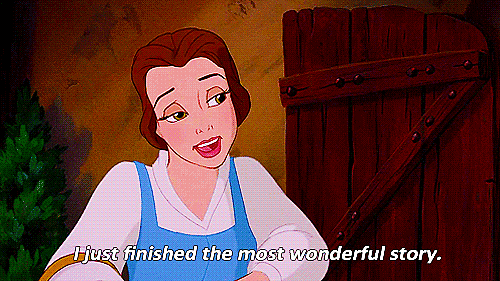 ---
5.) Least favorite book?
"Blackhearts" by Nicole Castroman. Because I was promised pirates and a Blackbeard origin story and all I got was romance, swooning, more romance, bland characters, and a borderline abusive love interest. Not happy.
---
6.) Love triangles, yes or no?
For the most part no. It has to be a pretty damn good love triangle for me to enjoy it, like both love interests make sense and are great. However, I find a majority of love triangles to be really tedious.
---
7.) The most recent book you just couldn't finish?
I rarely DNF books mostly because I always feel guilty that I didn't finish them and I have a hard time convincing myself to just quit. So the most recent book that I WANTED to DNF would be "There's Someone Inside Your House" which…I really didn't' like.
---
8.) A book you're currently reading?
I just started "Devils Unto Dust" by Emma Berquist, it's kind of a western with zombies.
---
9.) Last book you recommended to someone?
I can't remember? I recommend a lot of books to a lot of people but how about one I recommend all the freaking time? "Vicious" by V.E. Schwab is fantastic and you should all go read it now…….
---
10.) Oldest book you've read (Publication Date)?
So besides all of the classics I was forced to read in high school and didn't enjoy, the oldest book is "Othello" by William Shakespeare. I freaking love "Othello" by the way, by far my favorite Shakespeare play. But if you'd like the oldest book, book that isn't a play then it's "Dracula" by Bram Stoker which is also awesome and I read for fun and not because someone told me to.
---
11.) Newest book you've read (Publication Date)?
"Circe" which doesn't come out until April 10th but once again…..I highly recommend it!
---
12.) Favorite author?
Um….it's so hard? I'll say my favorite male author is Jay Kristoff and my favorite female author is Victoria Schwab!
---
13.) Buying books or borrowing books?
I do a lot of both actually but in the end I prefer buying books because I'm a terrible book hoarder and I like to sit and stare at them. Plus taking photos Bookstagram without that plastic liner on the covers is much easier!
---
14.) A book you dislike that everyone else seems to love?
"One of Us Is Lying" by Karen M. McManus, there seem to be very few of us who didn't enjoy this one. I just wasn't impressed with it at all.
---
15.) Bookmarks or dog-ears?
Bookmarks, hands down! If you like dog-earring you go right ahead they're your books but if anyone dog-earred in my books I wouldn't be happy, I just don't like bending pages in my own books. Plus bookmarks can be so pretty!
---
16.) A book you can always re-read?
I actually don't really re-read books all that much but I know for a fact I could always go back to the Harry Potter series.
---
17.) Can you read while hearing music?
Only if it's instrumental, as I already mentioned I have the worst attention span. If I hear vocals I have to sing, listen, and dance and therefore can't concentrate on reading. I actually tend to listen to a lot of ASMR on YouTube while I'm reading, I find the sounds relaxing, not distracting, and it's nice to have some sort of background noise.
---
18.) One POV or Multiple POVs? (Points of View)
I suppose this really depends on the type of book but I think I prefer multiple POVs, nothing too crazy though. I think you can do so much more with your story and world building telling a tale from different POVs.
---
19.) Do you read a book in one sitting or over multiple days?
I hardly ever read a book in one sitting, once again I just don't have the attention span for it or the time for the most part. Usually a book takes me a few days to complete unless it's very short.
---
20.)  A book you've read because of the cover?
The only book I have ever truly picked up based on the cover alone was "The Merciless" by Danielle Vega. I mean look….it's hot pink and has a pentagram on it. It was practically screaming my name in the book store.
Tag! You're It!
(Don't feel obligated to do this tag!)
Adrianna @ For The Love of Books
Also if you would like to do this tag and were not tagged, feel free to go ahead and tag yourself! 
Follow Me Elsewhere: Twitter * Instagram * Goodreads