I know, I know: that's a TON of books! Fortunately I didn't pay full price for a single one of them! This haul is an accumulation of books I received for review, books I bought at my library's book sale, Book Outlet (of course), and my first order from Thrift Books. I was actually really happy with the condition of the used books from Thrift Books, I was a little leery at first but I was pleasantly surprised.
Contagion by Erin Bowman
Space viruses! That's pretty much all I needed to know about this book, I don't know why but a virus/epidemic in space is always ten times scarier to me!
---
Scream All Night by Derek Milman
This one is supposed to be a sort of horror/dark comedy, it sounds like a lot of fun! The main character gets to visit the set that was home to many horror movies and gets sucked into the horrors of that world both real and imagined!
---
Sawkill Girls by Claire Legrand
The synopsis for this one is a little confusing but I'm pretty confidant that it's YA horror, that or it's a mystery/thriller with paranormal/supernatural/horror elements. Either way I'm super pumped for this one!
---
Broken Things by Lauren Oliver
I love mystery/thrillers and I hear loads of good things about Lauren Oliver so I'm excited to give this one a try!
---
The Disasters by M.K. England
This one looks and sounds like one fun YA sci-fi! It's about a group of misfits who have to clear their names of one of the biggest crimes the universe has seen by pulling off a heist to spread the truth!
---
Damsel by Elana K. Arnold
This takes the traditional role/trope of 'damsel' and turns it on its head, at least that's the impression I get from the synopsis! The main character/damsel lives in a world where a rite is performed for a prince that has come of age. He must slay a dragon and rescue a damsel to be his bride, the main character also just so happens to be this damsel. and she learns secrets surrounding this rite.
---
For a Muse of Fire by Heidi Heilig
An Asian inspired YA fantasy about a girl who can see spirits/souls and can bind them to puppets with her blood. There's also some stuff about a rebellion but…..souls in puppets sounds more interesting!
---
This Splintered Silence by Kayla Olson
Another YA sci-fi that involves a virus slowly killing off everyone on the space station, that, or a killer is on the loose. Sounds exciting!
---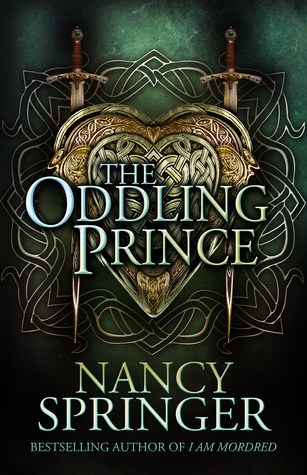 The Oddling Prince by Nancy Springer
I started this and DNFed it at 25%, it's just way too slow and nothing was happening at all.
---
Ramona Blue by Julie Murphy
A YA LGTBQ+ contemporary book that just sounds really, really good! I got this on sale for my Kindle, it's actually still on sale for $1.99 if any of you want to check it out!

Hullmetal Girls by Emily Skrutskie
This one's the only physical ARC I received this month but it sounds awesome with space and space soldier suits, also for some reason it reminds me of 'Pacific Rim'?
(check out my other photos on Instagram! @thesassybookgeek!)
---
False Hearts by Laura Lam
Basically this kind of sounds like 'Inception' and I really love that movie…..
---
The Nowhere Girls by Amy Reed
A group of misfits come together to avenge the rape of a fellow student and end up triggering a change in their school's misogynist culture. This sounds so kickass and also the cover is gorgeous!
---
American Girls by Alison Umminger
This one's about a girl who runs away from home to LA to live with her sister, she then gets into reading and researching everything Manson related. Seems like an interesting book.
---
Wild Beauty by Anna-Marie McLemore
Probably the most gorgeous cover I've ever seen and I've heard McLemore's writing is gorgeous, also this is LGTBQ+ I believe.
---
The House by Christina Lauren
I mean….it's a haunted house book, so of course I want to read it. Hopefully it's at least slightly creepy.
---
The Fixer by Jennifer Lynn Barnes
This is such a popular thriller and pretty much everyone seems to love it so I'm excited to give it a read. Also I've been craving (is that the right word? Can you crave books?) thrillers lately!
---
The Lost & The Found by Cat Clarke
This is another mystery/thriller revolving around a main character's sister who went missing and showed up again 13 years later. I've heard it's got a great twist!
---
Moxie by Jennifer Mathieu
A contemporary with a very feminist plot! Sounds so good also love the hot pink!
---
The Archived by Victoria Schwab
Because I need everything Schwab writes…..
---
Demon Road by Derek Landy
This YA book sounds a lot like 'Supernatural' and I'm game for that!
---
Keturah & Lord Death by Martine Leavitt
The title pretty much says it all, a girl makes a bargain with Death to prolong her life until she finds her true love. I've heard so many good things about this book and it seems very underrated.
---
Genesis by Bernard Beckett
This one is a YA sci-fi/dystopian that's only 150 pages, I've heard good things so I figured it'd make a good, quick read!
---
The Scorpio Races by Maggie Stiefvater
Because Maggie Stiefvater is a queen! I need all of her books even though I still need to finish the Raven Cycle!
---
Into The Darkest Corner by Elizabeth Haynes
The hardcover edition I got of this book is actually really neat, it doesn't have a dust jacket and the cover is all shiny and metallic! I heard this was a really, really good mystery/thriller!
---
Retribution Rails by Erin Bowman
I enjoyed the first book "Vengeance Road" and this companion novel sounds just as good! Also the covers are ridiculously beautiful!
---
The Library of Fates by Aditi Khorana
This book has a lot going on in the synopsis but it's a YA fantasy about two characters that seek out the Library of All Things in order to reverse their fates. Sounds amazing and the cover is beautiful too!
---
Railhead by Philip Reeve
This seems like a similar synopsis to "Honor Among Thieves" and since I didn't like that book all that much maybe I'll enjoy this one! There's sentient trains that travel through the universe, so I mean it's probably awesome.
---
Beauty Queens by Libba Bray
This one just sounds like it's a super funny and light-hearted read, sometimes you need that! It's about a group of beauty pageant contestants getting stranded on a desert island.
---
Overturned by Lamar Giles
This one takes place in Las Vegas and centralizes around the main character's father who was framed and wrongly imprisoned, they must navigate Vegas's underground to uncover the truth. I'm a sucker for Vegas themed books for some reason!
---
The Dark Unwinding by Sharon Cameron
I took this off of my TBR a little while ago but I saw it at my library's book sale and grabbed it because at (about) $0.50 a book how can you go wrong?
---
Lord of the Rings Box Set by J.R.R. Tolkien
(The Return of the Shadow, The Treason of Isengard, The War of the Ring, The End of the Third Age)
Another library book sale grab, I got this box set of Middle Earth related books. Because I need all of it, trust me.
---
The False Prince by Jennifer A. Nielsen
Another book I got rid of on my TBR originally but I couldn't NOT grab it for $0.50. It's a YA fantasy and has some pretty good reviews.
---
Saga Volume 1 by Brian K. Vaughan
I have already read this volume (and all available volumes at the moment) of Saga but I regret not buying all of them for my book collection. I saw the library was getting rid of multiple copies and snagged one!
---
Razorhurst by Justine Larbalestier
This was a book I picked up for the cover and bought for the synopsis. 1932 Sydney, Australia, mob bosses, and ghosts. How can you go wrong?
---
Forgive Me, Leonard Peacock by Matthew Quick
This is a YA contemporary that I believe also deals with mental illness, has tons of good reviews too.
---
Library of Souls (Miss Peregrine's #3) by Ransom Riggs
I haven't read "Hollow City" yet but I do really want to continue with this series (#4 is a real thing now!) so I grabbed this at my library's sale! It's so satisfying to have a set of hardcovers of this series too!
What do you think of my haul?
Are you excited to read any of these books as well?
Have you read any of these? What did you think?
Have you hauled any great books lately?
Let me know in the comments!
Follow Me Elsewhere: Twitter * Instagram * Goodreads