You know those months where it feels like 50 books that you want are being released all at the same time? July is one of those months! There are so many freaking books coming out this month guys and I'm excited for a TON of them!
Listed in order by release date.
The Last Time I Lied by Riley Sager
Release Date: July 3rd
I actually didn't find out about this one until the other day but I had an enjoyable time reading Riley Sager's other novel "Final Girls" so I'm interested in reading some of their other books! Especially since this one involves a summer camp and a group of girls disappearing, perfect summer creepiness!
---
Spinning Silver by Naomi Novik
Release Date: July 10th
I NEED THIS BOOK! I really loved "Uprooted" and this one seems like it will follow a similar formula and everyone else who got the opportunity to read early copies seem to be loving it!
---
The Supervillain and Me by Danielle Banas
Release Date: July 10th
Not too sure about this one yet but it's got a supervillain romance (I'm assuming and also judging the book by its cover) which I'm all about. So I'm curious but not 100% sold yet.
---
Bright We Burn (And I Darken #3) by Kiersten White
Release Date: July 10th
I HAVEN'T READ "Now I Rise" YET! AHHHHHHH!
---
The Cheerleaders by Kara Thomas
Release Date: July 17th
I'm a big fan of Kara Thomas's books, "The Darkest Corners" and "Little Monsters" were both fantastic, dark YA thrillers. I am ready for more!
---
In The Vines by Shannon Kirk
Release Date: July 17th
This one seems like a gothic mystery/thriller which I want more of, hopefully I can get my fix with this one! Anything with puzzles of family secrets and estates/mansions always sound interesting.
---
Hullmetal Girls by Emily Skrutskie
Release Date: July 17th
Super excited to hustle up and read my ARC of this, I love a good YA sci-fi and this one has super soldier space suits. That's a mouth full!
---
Campfire by Shawn Sarles
Release Date: July 17th
YA horror is so underrated, I wish there were more of them. This one deals with an urban legend "coming to life" as a family camps out in the wild. Very excited to read this ARC!
---
---
Baby Teeth by Zoje Stage
Release Date: July 17th
I had heard of this book before but I didn't realize it had a July release date until the other day! Essentially it's about a little girl who loves her dad but is trying to get rid of her mother, it sounds super creepy!
---
Give Me Your Hand by Megan Abbott
Release Date: July 17th
Megan Abbott seems to be hit or miss with me, I loved her most recent novel "You Will Know Me" but really disliked "Dare Me". However, I have a feeling this one will be more like the former which means I'll probably enjoy it!
---
Contagion by Erin Bowman
Release Date: July 24th
Space virus or monster on an abandoned site on a distant planet! Enter the search and rescue team! This is such a traditional set up for sci-fi horror, which I'm trash for so I'm in.
---
Girls' Night Out by Liz Fenton & Lisa Steinke
Release Date: July 24th
Another ARC that I have, I love reading mystery/thrillers in the summer and this one involves a trip to Mexico gone wrong when a friend goes missing.
---
I Am Still Alive by Kate Marshall
Release Date: July 24th
I just received a review copy of this since I'm going to be a part of the blog tour on the 17th! It's a really awesome sounding survival story, be on the look out for my blog tour post!
---
Scream All Night by Derek Milman
Release Date: July 24th
Another ARC I have to read but seems like a dark comedy mixed with horror, the character visits a horror movie set where he may get to see/meet more than he bargained for.
---
Sanctuary by Caryn Lix
Release Date: July 24th
Another sci-fi/horror type of book this one is being pitched as Alien meets The Darkest Minds. I am mostly here for the Alien bit since that's one of my all time favorite franchises but also I like anything with space monsters…..
---
Sea Witch by Sarah Henning
Release Date: July 31st
This one is basically a Little Mermaid retelling but about Ursula, I mean isn't that all we need to know? I know for me it is!
---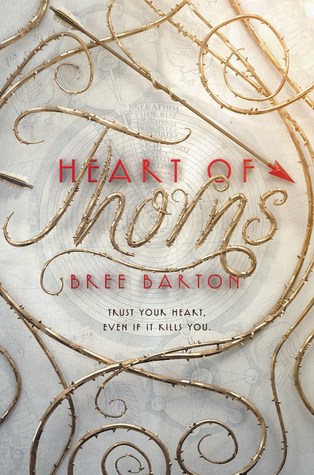 Heart of Thorns by Bree Barton
Release Date: July 31st
Demon hunting and forbidden magic! There's also a bit in there about being married off to a prince but hopefully it won't be cliched.
---
Grace & Fury by Tracy Banghart
Release Date: July 31st
Two sisters, a world where women have no rights, and imprisonment on an island where you must fight to the death to survive?! There's a lot going on in the synopsis but it all sounds awesome, definitely seems a lot darker than the cover implies.
Are you also looking forward to any of these books?
Have you read any of them yet (ARCs etc)?
What are some June releases I didn't include that you're looking forward to?
Let me know in the comments!
Follow Me Elsewhere: Twitter * Instagram * Goodreads