It's a little late in the month for my book haul but better late than never right? I do a book haul damn near every month, I think I need help. I've gone from book lover to book hoarder I think.
---
Perfect Days by Raphael Montes
This one has some mixed reviews but it's relatively short and it reminds me a bit of "You" by Caroline Kepnes, which I enjoyed. The main character meets a young a woman, becomes obsessed, and when she rejects him he kidnaps her.
---
Royce Rolls by Margaret Stohl
This is the kind of fluffy contemporary fueled by drama that I crave every now and then. Sometimes I just want something like this! It's about a reality TV star so I think the drama will be aplenty. Hopefully it'll be a fun, light-hearted read.
---
The Cursed Queen (The Impostor Queen #2) by Sarah Fine
I really enjoyed the first book, which I feel is vastly underrated, and even though this features a different character's POV I still think it'll be fun.
---
The School For Good and Evil by Soman Chainani
This is one of those Middle Grade novels that I feel is pretty popular and a lot of people have enjoyed. I also I love the idea of a school for "good and evil" that trains princesses and villains, it just sounds like a lot of fun.
---
The Starlit Wood: New Fairy Tales by Various Authors
This is an anthology of fairy tale retellings and features Seanan McGuire, Naomi Novik, Catherynne M. Valente, and Marjorie M. Liu. How can you go wrong here? Also the short story by Naomi Novik in here is what eventually became "Spinning Silver"!
---
What The #@% Was That?: The Saga Anthology of The Monstrous and Macabre by Various Authors
Destiny brought this to my attention and how could I not get a horror anthology especially when Seanan McGuire has a story in it?!
---
The Window by Amelia Brunskill
This is a mystery/thriller about a girl whose twin dies in an accident falling out her bedroom window. Soon after that she decides to start digging for the truth and secrets her sister was hiding and she isn't the only one hiding secrets. Seems like an interesting, quick read.
---
Things We Have In Common by Tasha Kavanagh
A lot of people classify this as YA but I think it's more adult fiction and just features young adult characters. Not quite sure. Either way I've heard good things about it and it's another mystery/thriller that I believe is about a character who has a fixation and is obsessed with one of her classmates. I don't know I just think it sounds really intriguing.
---
---
An Enchantment of Ravens by Margaret Rogerson
I've already read this little gem but I, unfortunately, borrowed it from my library. This is unfortunate because I loved it so much I wanted to have my own copy. When I was browsing Books-A-Million I discovered they have started selling used copies and found this for $4.00, so I finally have this gorgeous book! It's about Fae, is a standalone, and is just all around great.
If you'd like to read my full review you can click here!
---
The Cheerleaders by Kara Thomas
I adore Kara Thomas's books so of course I needed to have her latest, she really knows how to write plot twists! I think I'm by far the most excited for this book, it's about a town where devastating events took the lives of all their cheerleaders and the school disbanded the activity. However, what happened back then isn't over yet.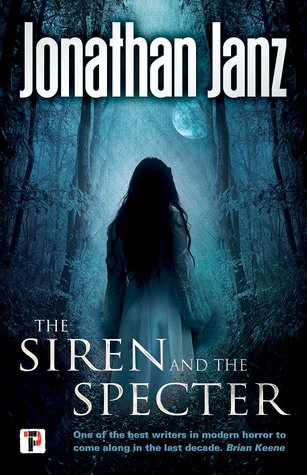 The Siren and The Specter by Jonathan Janz
I received a copy of this for review and holy crap was it fantastic! It's a classic haunted house tale that will not only scare your pants off but have you reading all the way up until the last page. Everything about it was great: the writing, the characters, the plot, and the scares.
You can read my full review here, if you dare mwahahaha (just kidding….mostly).
---
Dreaming Darkly by Caitlin Kittredge
This is a gothic mystery about a girl who is sent to live with a mysterious uncle on a remote island after her mother's death. She starts to have episodes and nightmares and enlists the help of a boy who believes it may be connected to the island's dark past. I'm so excited for this one, everything about it sounds awesome and creepy!
---
Circle of Shadows by Evelyn Skye
I'm not too sure about how I'll feel about this one  since I wasn't the biggest fan of "The Crown's Game", however, I do like her writing style and a new fantasy may be what I need. This is about apprentice warriors trying to prove themselves to an elite group and infiltrate a group of mysterious soldiers that may pose a threat to their kingdom.
---
Sherwood by Meagan Spooner
I feel like Meagan Spooner is just really killing it with the retellings lately and I am beyond excited for this Robin Hood one! I mean…it's Robin Hood.
---
Other Words for Smoke by Sarah Maria Griffin
This book, this is an interesting book in that the synopsis has a lot going on in it. There are the twin main characters who know the truth about what happened the summer a house burned down and and the occupants never seen again. They were living with their great aunt and discover a strange power lurking in that house that is called Sweet James. Creepy, right? This just sounds so unique and I'm very excited for it!
What do you think of my haul?
Are you excited to read any of these books as well?
Have you read any of these? What did you think?
Have you hauled any great books lately?
Let me know in the comments!
Follow Me Elsewhere: Twitter * Instagram * Goodreads