Thank you so much to Michelle over at Book Adventures for nominating me for the Encouraging Thunder Award!
This blog award only consists of one basic question: Why did you start blogging?
Well it all started when my mother bought me "Harry Potter and the Sorcerer's Stone" when I was 5, of course she read that one to me and I was enthralled.
Then we started the second Harry Potter book and at the time I was maybe 7 and I NEEDED to know what happened next but, unfortunately, my mother was talking on the phone. So being the pesky child I am I tried to get her attention and demand that she read to me now, and of course she told me no, so I went and sat and stared at my Harry Potter book trying to read it and accomplished reading a few sentences. I was pretty proud.
After that I was told my mother would not be reading to me anymore and that I'd have to read on my own, and I did just that and I haven't quit yet! At that young age the passion of reading sparked inside of me and I really owe it to my mother AND J.K. Rowling. I like to think if it weren't for Harry Potter I might have found reading to be boring like many other kids at that age do.
And also:
Truer words have never been spoken.
Now you know how I GOT my passion for reading.
So what did I decide to do about my passion for reading?
Start a blog of course! I don't have many friends that enjoy reading like I do, so I figured what better way to talk about books then to get on the internet and find people who love them as much as me?
I've been blogging for about 2 months now, that's right I'm a super newb and still learning the ropes. If you have any tips for me I would LOVE to hear them!
That's really all there is to it, folks. I love reading and blogging is a great way to get out there and converse about books with fantastic people who share that interest. THAT is why I started blogging, and I don't regret a minute of it.
Besides I love pushing my book feels onto the innocent book blogging community.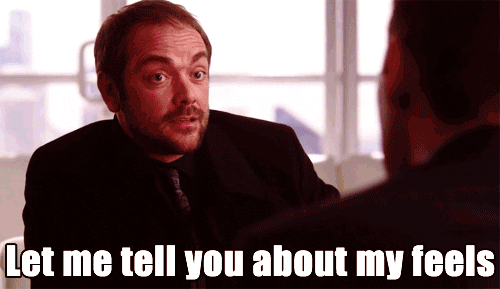 ---
Annnnnnnd this is awkward, I don't really have anyone to nominate. So if you want to tell me why you started blogging then consider yourselves nominated for this award!