Top Ten Tuesday is a meme hosted by The Broke and the Bookish
It's freebie week, and I was looking for ideas and all I kept seeing were books I'd recommend for _______ and so on. So I've decided to do the top ten books I DON'T recommend. Now it doesn't necessarily mean I HATED the book or anything, I just wouldn't go around recommending them to people. Instead of 10 I only have 8, which is good right? It means I haven't read that many books I dislike. Granted some are grouped into the series as a whole but that's not the point is it?
8.) The Twilight Series by Stephenie Meyer
Do I even need to explain why this is on here? Let me say this: I remotely enjoyed them while I was reading them in the 9th grade. THEN I realized how bad they actually were. I, like a sheep following the flock, was suckered into reading the ENTIRE series just because everyone else did. Is this series really that bad? No. Are there TONS of other books that are so much better? Yes. "Twilight" suffered from a serious case of the "over hype".
7.) The (Entire) House of Night Series by P.C. Cast & Kristin Cast
These are all the ones I read, 1-9. How I managed to read 9 of these remains a mystery to me. Our MC spends the whole series getting with EVERY, SINGLE GUY. I'm serious. Every single one. She will sit there and flirt and wheedle her way into the hearts of all male characters, it is the single most annoying thing about this series. It is very clear that this series came out during "The Great Vampire Fad". You get all the awfulness of that PLUS high school drama. Yay! (said no one, except me…sarcastically). If you want to read an AWESOME vampire series that deals with the high school aspect then please refer yourselves to Richelle Mead's Vampire Academy series. It's great. I recommend that series highly…not this one.
6.) Cinder (The Lunar Chronicles #1) by Marissa Meyer
"Cinder" is actually, probably the best book on this list (which is saying something). I can honestly say I enjoyed it more than these others, but I still had major issues with it. You can check out my full review of Cinder here for an idea of why I wouldn't recommend.
5.) City of Bones (The Mortal Instruments #1) by Cassandra Clare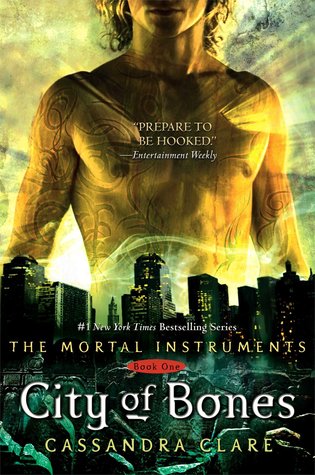 So many people LOVE this series and the hype (to me) couldn't have been more wrong. I'd recommend going and reading "Twilight" before I'd recommend this one. If you want my FULL thoughts on this book you can check out my review here and then you'll definitely understand why it belongs on this list.
4.) Fallen (Fallen #1) by Lauren Kate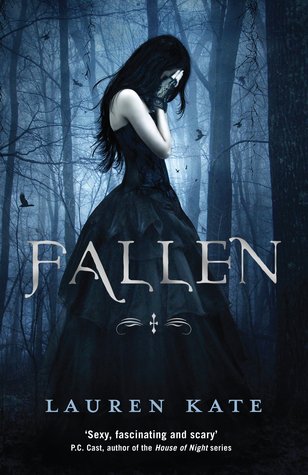 NOOOOOOOOOOO. I haven't even heard of anyone liking this book. Don't read it! This is one of the worst PNRs out there, I'm certain. Lucinda (the MC) spends the entire book being gaga over Daniel (the douche love interest), and all he does is act like a dick to her and she STILL stalks the crap out of him! Take a hint girl and leave him alone! I forced myself to to finish this thing, the characters were all two dimensional. I could have gone and drawn a stick figure on a piece of paper and it would have more personality than these guys. Instead of me recommending this book to anyone, I'm going to recommend you go onto Goodreads and read all of the reviews.
3.) Spider's Bite (Elemental Assassin #1) by Jennifer Estep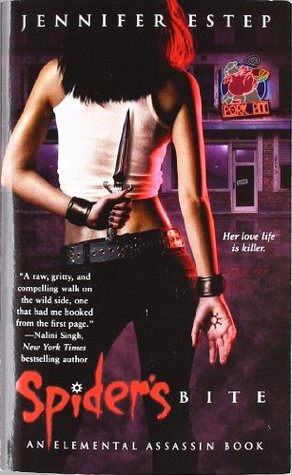 No, this is book is just….no. The description for this book sounds amazing, and I read the whole sample and it was amazing, but the book was…not amazing. It was actually really boring, and Gin (the MC) is not as funny, hot, or badass as she thinks she is. I expected to love this book but I hated it, even though it promises something unique it really is your basic run of the mill PNR. And I'm not really a fan of romance so that may explain why I disliked it. Point is, not a book that I would recommend…at all.
2.) Bliss by Lauren Myracle
This book is fucked up, it's weird as hell, and nothing about it was enjoyable. That is a basic summary of "Bliss", it is seriously messed up. I bought and read it years ago thinking I was going to be reading a good YA horror book, and man….was I wrong. All it was, was gross and not scary. There's the whole "don't pick on unpopular kids because they'll commune with the dark side and fuck you up" thing going on, plus the whole "high school mean girls" thing. It was an annoying book, don't waste your time with this one like I did.
1.) Night World, No. 1 (Night World #1-3) by L.J. Smith
"Night World No. 1" is composed of three short novels in one book, and they all drug on with the intensity of watching grass grow. In other words they were tedious and uninteresting. There was a lot of insta-love going on, and I found all the characters to be dull and undeveloped. I even read this when I was a preteen (which is definitely the target audience) and I STILL didn't enjoy it. I'm fairly convinced that every other vampire/PNR related book out there is better than this one, including the others on this list. I wouldn't recommend reading this book even if it was your only company on a desert island.
That's my (belated) Top Ten Tuesday, are there any books you agree/disagree with me on? Let me know! I'd love to hear from you guys.