A new month means a bunch of new book releases! I'm excited to chat about these and maybe even share some new ones with you all!
I'll provide the descriptions for each of these books so you know if you want to add them to your TBR as well! Also keep in mind these are ordered by release date from the beginning of the month to the end.
See What I Have Done by Sara Schmidt
Release Date: August 1st, 2017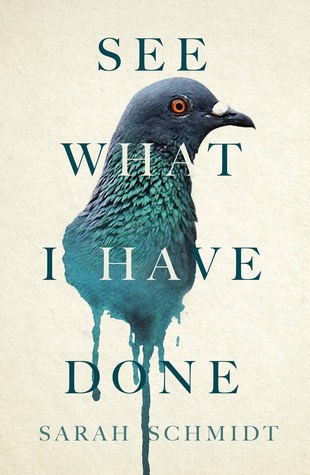 In this riveting debut novel, See What I Have Done, Sarah Schmidt recasts one of the most fascinating murder cases of all time into an intimate story of a volatile household and a family devoid of love.
On the morning of August 4, 1892, Lizzie Borden calls out to her maid: Someone's killed Father. The brutal ax-murder of Andrew and Abby Borden in their home in Fall River, Massachusetts, leaves little evidence and many unanswered questions. While neighbors struggle to understand why anyone would want to harm the respected Bordens, those close to the family have a different tale to tell—of a father with an explosive temper; a spiteful stepmother; and two spinster sisters, with a bond even stronger than blood, desperate for their independence.
As the police search for clues, Emma comforts an increasingly distraught Lizzie whose memories of that morning flash in scattered fragments. Had she been in the barn or the pear arbor to escape the stifling heat of the house? When did she last speak to her stepmother? Were they really gone and would everything be better now? Shifting among the perspectives of the unreliable Lizzie, her older sister Emma, the housemaid Bridget, and the enigmatic stranger Benjamin, the events of that fateful day are slowly revealed through a high-wire feat of storytelling.
I sort of retelling of the Lizzie Borden case? I'm in, say no more! Although I'm a little more leery of it now since I haven't seen the best of reviews for it so far.
---
The Wood by Chelsea Bobulski
Release Date: August 1st, 2017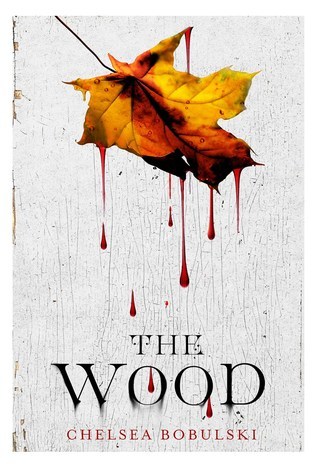 When Winter's dad goes missing during his nightly patrol of the wood, it falls to her to patrol the time portals and protect the travelers who slip through them. Winter can't help but think there's more to her dad's disappearance than she's being told.
She soon finds a young man traveling in the wood named Henry who knows more than he should. He believes if they can work together to find his missing parents, they could discover the truth about Winter's dad.
The wood is poisoned, changing into something sinister—torturing travelers lost in it. Winter must put her trust in Henry in order to find the truth and those they've lost.

First of all portals and time travelers has my attention immediately because that's just always awesome! Plus sinister, torturing woods sounds super creepy and interesting also that cover is scary and gorgeous at the same time.
---
When I Am Through With You by Stephanie Kuehn
Release Date: August 1st, 2017
"This isn't meant to be a confession. Not in any spiritual sense of the word. Yes, I'm in jail at the moment. I imagine I'll be here for a long time, considering. But I'm not writing this down for absolution and I'm not seeking forgiveness, not even from myself. Because I'm not sorry for what I did to Rose. I'm just not. Not for any of it."
Ben Gibson is many things, but he's not sorry and he's not a liar. He will tell you exactly about what happened on what started as a simple school camping trip in the mountains. About who lived and who died. About who killed and who had the best of intentions. But he's going to tell you in his own time. Because after what happened on that mountain, time is the one thing he has plenty of.
I actually have two of Kuehn's other books on my TBR and they just all sound like really interesting character studies. I've heard lots of good things about her books so I'm adding this for her and also because the story itself sounds pretty suspenseful.
---
League of American Traitors by Matthew Landis
Release Date: August 8th, 2017
Those who don't know history are destined to repeat it. . . .
When seventeen year-old Jasper is approached at the funeral of his deadbeat father by a man claiming to be an associate of his deceased parents, he's thrust into a world of secrets tied to America's history—and he's right at the heart of it.
First, Jasper finds out he is the sole surviving descendant of Benedict Arnold, the most notorious traitor in American history. Then he learns that his father's death was no accident. Jasper is at the center of a war that has been going on for centuries, in which the descendants of the heroes and traitors of the American Revolution still duel to the death for the sake of their honor.
His only hope to escape his dangerous fate on his eighteenth birthday? Take up the research his father was pursuing at the time of his death, to clear Arnold's name.
Whisked off to a boarding school populated by other descendants of notorious American traitors, it's a race to discover the truth. But if Jasper doesn't find a way to uncover the evidence his father was hunting for, he may end up paying for the sins of his forefathers with his own life.

I just think the idea of descendants of American heroes and traitors dueling to the death is really unique and interesting. That's what I'm here for! I also like the National Treasure vibes a lot…..
---
Shimmer and Burn by Mary Taranta
Release Date: August 8th, 2017
To save her sister's life, Faris must smuggle magic into a plague-ridden neighboring kingdom in this exciting and dangerous start to a brand-new fantasy duology.
Faris grew up fighting to survive in the slums of Brindaigel while caring for her sister, Cadence. But when Cadence is caught trying to flee the kingdom and is sold into slavery, Faris reluctantly agrees to a lucrative scheme to buy her back, inadvertently binding herself to the power-hungry Princess Bryn, who wants to steal her father's throne.
Now Faris must smuggle stolen magic into neighboring Avinea to incite its prince to alliance—magic that addicts in the war-torn country can sense in her blood and can steal with a touch. She and Bryn turn to a handsome traveling magician, North, who offers protection from Avinea's many dangers, but he cannot save Faris from Bryn's cruelty as she leverages Cadence's freedom to force Faris to do anything—or kill anyone—she asks. Yet Faris is as fierce as Bryn, and even as she finds herself falling for North, she develops schemes of her own.
With the fate of kingdoms at stake, Faris, Bryn, and North maneuver through a dangerous game of magical and political machinations, where lives can be destroyed—or saved—with only a touch.
I like the idea of smuggling magic and all the scheming that seems to be taking place in this book. Scheming, deceptive characters are my favorite especially in fantasy settings!
---
Ferocious (Vicarious #2) by Paula Stokes
Release Date: August 15th, 2017
When Winter Kim finds out that her sister is dead and that she has a brother she never knew about, only two things matter―finding what's left of her family and killing the man who destroyed her life. Her mission leads her from St. Louis to Los Angeles back to South Korea, where she grew up.
Things get increasingly dangerous once Winter arrives in Seoul. Aided by her friends Jesse and Sebastian, Winter attempts to infiltrate an international corporation to get close to her target, a nefarious businessman named Kyung. But keeping her last remaining loved ones out of the line of fire proves difficult, and when all seems to be lost, Winter must face one last devastating decision: is revenge worth sacrificing everything for? Or can she find a spark of hope in the darkness that threatens to engulf her?
I enjoyed "Vicarious" but it wasn't as action packed so I'm unsure if I'll read the sequel or not, however, this one sounds much better and I like that it will be set in Seoul!
---
A Map For Wrecked Girls by Jessica Taylor
Release Date: August 15th, 2017
We sat at the edge of the ocean—my sister Henri and I—inches apart but not touching at all. We'd been so sure someone would find us by now.
Emma had always orbited Henri, her fierce, magnetic queen bee of an older sister, and the two had always been best friends. Until something happened that wrecked them.
I'd trusted Henri more than I'd trusted myself. Wherever she told me to go, I'd follow.
Then the unthinkable occurs—a watery nightmare off the dazzling coast. The girls wash up on shore, stranded. Their only companion is Alex, a troubled boy agonizing over his own secrets. Trapped in this gorgeous hell, Emma and Alex fall together as Emma and Henri fall catastrophically apart.
For the first time, I was afraid we'd die on this shore.
To find their way home, the sisters must find their way back to each other. But there's no map for this—or anything. Can they survive the unearthing of the past and the upheaval of the present?
I think this plot just sounds really neat and unique and plus that cover is GORGEOUS! Seriously I'd fork over the cash just for the cover alone.
---
Wicked Like A Wildfire by by Lana Popovic
Release Date: August 15th, 2017
All the women in Iris and Malina's family have the unique magical ability or "gleam" to manipulate beauty. Iris sees flowers as fractals and turns her kaleidoscope visions into glasswork, while Malina interprets moods as music. But their mother has strict rules to keep their gifts a secret, even in their secluded sea-side town. Iris and Malina are not allowed to share their magic with anyone, and above all, they are forbidden from falling in love.
But when their mother is mysteriously attacked, the sisters will have to unearth the truth behind the quiet lives their mother has built for them. They will discover a wicked curse that haunts their family line—but will they find that the very magic that bonds them together is destined to tear them apart forever?
Curses are always my jam, I know that sounds weird but if curses are in the plot I will probably be reading that book! Plus that's a beautiful cover!
---
The Arsonist by Stephanie Oakes
Release Date: August 22nd, 2017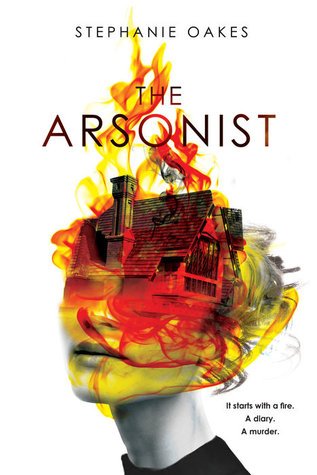 Molly Mavity is not a normal teenage girl. For one thing, her father is a convicted murderer, and his execution date is fast approaching. For another, Molly refuses to believe that her mother is dead, and she waits for the day when they'll be reunited . . . despite all evidence that this will never happen.
Pepper Yusef is not your average teenage boy. A Kuwaiti immigrant with epilepsy, serious girl problems, and the most useless seizure dog in existence, he has to write a series of essays over the summer . . . or fail out of school.
And Ava Dreyman—the brave and beautiful East German resistance fighter whose murder at seventeen led to the destruction of the Berlin Wall—is unlike anyone you've met before.
When Molly gets a package leading her to Pepper, they're tasked with solving a decades-old mystery: find out who killed Ava, back in 1989. Using Ava's diary for clues, Molly and Pepper realize there's more to her life—and death—than meets the eye. Someone is lying to them. And someone out there is guiding them along, desperate for answers.
I absolutely loved Oakes' debut novel "The Sacred Lies of Minnow Bly" and so of course I'm interested in reading her next book that also happens to have a stunning cover! I'm not so sure how this plot will work though since it really seems to have a lot going in in it but we will see!
---
The Rattled Bones by S.M. Parker
Release Date: August 22nd, 2017
Unearthing years of buried secrets, Rilla Brae is haunted by ghostly visions tied to the tainted history of a mysterious island in this haunting novel from the author of The Girl Who Fell.
Maine-bred, independent Rilla Brae is no stranger to the deep. She knows the rhythms of hard work and harder seas. But when she experiences the sudden death of her father, the veil between the living and the dead blurs and she begins to be haunted by a girl on a nearby, uninhabited island. The girl floats a song over the waves, and it is as beautiful as it is terrifying. Familiar and distant.
Then Rilla meets Sam, a University of Southern Maine archeology student tasked with excavating the very island where the ghostly girl has appeared. Sam sifts the earth looking for the cultural remains of an island people who were forcibly evicted by the state nearly a hundred years ago. Sam tells Rilla the island has a history no locals talk about—if they know about it at all—due to the shame the events brought to the working waterfront community. All Rilla knows for sure is that the island has always been there—an eerie presence anchored in the stormy sea. Now Sam's work and the ghostly girl's song lure Rilla to the island's shores.
As Rilla helps Sam to unearth the island's many secrets, Rilla's visions grow—until the two discover a tragedy kept silent for years. And it's a tragedy that has everything to do with Rilla's past.
I'm always up for anything that sounds remotely creepy or anything paranormal as far as hauntings are concerned.
---
Mask of Shadows by Linsey Miller
Release Date: August 29th, 2017
Sallot Leon is a thief, and a good one at that. But gender fluid Sal wants nothing more than to escape the drudgery of life as a highway robber and get closer to the upper-class—and the nobles who destroyed their home.
When Sal steals a flyer for an audition to become a member of The Left Hand—the Queen's personal assassins, named after the rings she wears—Sal jumps at the chance to infiltrate the court and get revenge.
But the audition is a fight to the death filled with clever circus acrobats, lethal apothecaries, and vicious ex-soldiers. A childhood as a common criminal hardly prepared Sal for the trials. And as Sal succeeds in the competition, and wins the heart of Elise, an intriguing scribe at court, they start to dream of a new life and a different future, but one that Sal can have only if they survive.
A gender fluid thief going undercover into an audition to become the Queen's assassin in order to exact their revenge? 100% sold! I have an ARC of this one so I'll be reading and reviewing it here this month!
---
Wonder Woman: Warbringer by Leigh Bardugo
Release Date: August 29th, 2017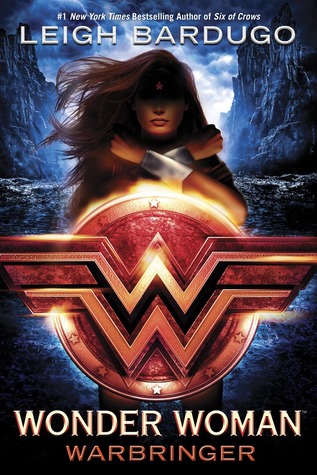 She will become one of the world's greatest heroes: WONDER WOMAN. But first she is Diana, Princess of the Amazons. And her fight is just beginning. . . .
Diana longs to prove herself to her legendary warrior sisters. But when the opportunity finally comes, she throws away her chance at glory and breaks Amazon law—risking exile—to save a mere mortal. Even worse, Alia Keralis is no ordinary girl and with this single brave act, Diana may have doomed the world.
Alia just wanted to escape her overprotective brother with a semester at sea. She doesn't know she is being hunted. When a bomb detonates aboard her ship, Alia is rescued by a mysterious girl of extraordinary strength and forced to confront a horrible truth: Alia is a Warbringer—a direct descendant of the infamous Helen of Troy, fated to bring about an age of bloodshed and misery.
Together, Diana and Alia will face an army of enemies—mortal and divine—determined to either destroy or possess the Warbringer. If they have any hope of saving both their worlds, they will have to stand side by side against the tide of war.
Do I even need a reason to be excited for a Wonder Woman book written by Leigh Bardugo? Yeah I didn't think so either….
---
Zero Repeat Forever by G.S. Prendergast
Release Date: August 29th, 2017
He has no voice, or name, only a rank, Eighth. He doesn't know the details of the mission, only the directives that hum in his mind.
Dart the humans. Leave them where they fall.
His job is to protect his Offside. Let her do the shooting.
Until a human kills her…
Sixteen year-old Raven is at summer camp when the terrifying armored Nahx invade, annihilating entire cities, taking control of the Earth. Isolated in the wilderness, Raven and her friends have only a fragment of instruction from the human resistance.
Shelter in place.
Which seems like good advice at first. Stay put. Await rescue. Raven doesn't like feeling helpless but what choice does she have?
Then a Nahx kills her boyfriend.
Thrown together in a violent, unfamiliar world, Eighth and Raven should feel only hate and fear. But when Raven is injured, and Eighth deserts his unit, their survival comes to depend on trusting each other…
---
I know that there's the 5th Wave series but other than that I don't think there are really that many alien invasion themed books in YA so it's great to see a new addition! I have an ARC of this book as well so I'm excited to get to it here!
Are you also looking forward to any of these books?
Have you read any of them yet (ARCs etc)?
What are some August releases I didn't include that you're looking forward to?
Let me know in the comments!