Top 5 Wednesday is a weekly meme hosted by Sam @ Thoughts on Tomes and created by Lainey @ Ginger Reads Lainey. You can check out the group's Goodreads page for this month's topics!
Sorry I've been so absent lately guys I've been in a bit of a blogging slump and it has been feeling a little overwhelming at the moment, but I'm trying to get back on track so please bear with me as it will probably take me a while to reply to all of your comments over the past week and a half!
I've actually added quite a few books to my TBR/wishlist recently but most of them are older books that were published 2-4 years ago. Which is fine with me! Means I don't have to wait around for them to get published, right? Let's get started!
5.) Parasite (Parasitology) by Mira Grant
Description
A decade in the future, humanity thrives in the absence of sickness and disease.
We owe our good health to a humble parasite – a genetically engineered tapeworm developed by the pioneering SymboGen Corporation. When implanted, the tapeworm protects us from illness, boosts our immune system – even secretes designer drugs. It's been successful beyond the scientists' wildest dreams. Now, years on, almost every human being has a SymboGen tapeworm living within them.
But these parasites are getting restless. They want their own lives…and will do anything to get them.
I really like science fiction but I never feel like I find any that sound this engaging and this book has pretty awesome reviews so it's definitely one I want to add to my collection, although this is an adult book and not YA I still think it's something I'd enjoy.
---
4.) Demon Road by Derek Landy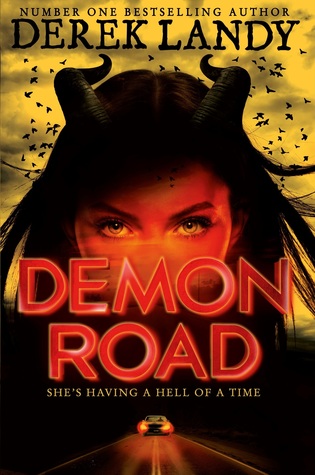 Description
Full of Landy's trademark wit, action and razor sharp dialogue, DEMON ROAD kicks off with a shocking opener and never lets up the pace in an epic road-trip across the supernatural landscape of America. Killer cars, vampires, undead serial killers: they're all here. And the demons? Well, that's where Amber comes in…Sixteen years old, smart and spirited, she's just a normal American teenager until the lies are torn away and the demons reveal themselves.
Forced to go on the run, she hurtles from one threat to another, revealing a tapestry of terror woven into the very fabric of her life. Her only chance rests with her fellow travellers, who are not at all what they appear to be…
This book was recommended to me by my buddy Michelle over at Book Adventures so make sure to head on over and check out her review of it! I'm a big fan of any fantasy and horror but I'm always a little leery of urban fantasy, lots of bad books did that to me, but I can honestly say this book sounds pretty damn awesome! It comes off as something that would be very Supernatural-esque so I'm in.
---
3.) Out of the Easy by Ruta Sepetys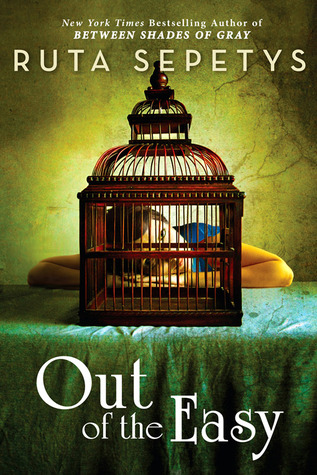 Description
It's 1950, and as the French Quarter of New Orleans simmers with secrets, seventeen-year-old Josie Moraine is silently stirring a pot of her own. Known among locals as the daughter of a brothel prostitute, Josie wants more out of life than the Big Easy has to offer.
She devises a plan to get out, but a mysterious death in the Quarter leaves Josie tangled in an investigation that will challenge her allegiance to her mother, her conscience, and Willie Woodley, the brusque madam on Conti Street. Josie is caught between the dream of an elite college and a clandestine underworld. New Orleans lures her in her quest for truth, dangling temptation at every turn, and escalating to the ultimate test.
The city of New Orleans has always fascinated me and I can't really explain but I can't say no to a historical fiction book set there. Not to mention I hear great things about Ruta Sepetys's books.
---
2.) Prince of Shadows by Rachel Caine
Description
In the Houses of Montague and Capulet, there is only one goal: power. The boys are born to fight and die for honor and—if they survive—marry for influence and money, not love. The girls are assets, to be spent wisely. Their wishes are of no import. Their fates are written on the day they are born.
Benvolio Montague, cousin to Romeo, knows all this. He expects to die for his cousin, for his house, but a spark of rebellion still lives inside him. At night, he is the Prince of Shadows, the greatest thief in Verona—and he risks all as he steals from House Capulet. In doing so, he sets eyes on convent-bound Rosaline, and a terrible curse begins that will claim the lives of many in Verona…
…And will rewrite all their fates, forever.
A Romeo and Juliet retelling! That's really all it needed to tell me, well that and the great reviews of course.
---
1.) The Chosen One by Carol Lynch Williams
Description
Thirteen-year-old Kyra has grown up in an isolated community without questioning the fact that her father has three wives and she has twenty brothers and sisters, with two more on the way. That is, without questioning them much—if you don't count her secret visits to the Mobile Library on Wheels to read forbidden books, or her meetings with Joshua, the boy she hopes to choose for herself instead of having a man chosen for her.
But when the Prophet decrees that she must marry her sixty-year-old uncle—who already has six wives—Kyra must make a desperate choice in the face of violence and her own fears of losing her family forever.
I have quite a bit of curiosity when it comes to polygamist communities so this sounds very interesting just for that aspect alone but from the other great reviews on this book I think it will prove to be interesting in many other ways as well.
Have you read any of these books? Did you enjoy them?
Did you find any books on here that sound interesting to you as well?
What books did you recently add to your wishlist?
Let me know in the comments and feel free to link your T5W as well!