I was going to do up a post of a few books that really disappointed me but then I came up with the post title and decided it'd be more fun to do a post about books with gorgeous covers but whose contents were a let down. Because nothing in the book world is more disappointing to me than a bad book with a beautiful cover, it's like false advertising!
There are actually quite a few books like this so I'm going to be making it into a kind of series so there will be at least another part to this post! Here's Part 1 though!
These books will range from 1-3 star ratings since a couple of these did receive 3 stars from me but were still a "meh" kind of book. I will also link up reviews for these if you want to hear me rant and rage some more on any particular book!
We'll Never Be Apart by Emiko Jean
I really liked the cover for this one since it was really eerie with the tree branches and the font is kind of glowing like a fire which is a thing the main plot focuses around. However, I thought the pacing was extremely slow, not much happened, and the big plot twist at the end was completely predictable. Seeing as how this is a psychological thriller having a predicable ending isn't really the way to go.
You can read my review of "We'll Never Be Apart" here.
---
Between the Devil and the Deep Blue Sea by April Genevieve Tucholke
I absolutely LOVE this dark cover and the font is gorgeous! Unfortunately this book was not dark, creepy, or eerie in the slightest and it was actually very confusing and very boring. It was also loaded with tropes such as insta-love and the characters make frequent poor decisions.
You can read my review of "Between the Devil and the Deep Blue Sea" here.
---
Blackhearts by Nicole Castroman
I really like the minimalist approach with this cover with the little ship in a bottle and the contrasting black cover and hot pink/grey font. It's not the greatest of covers but I thought it was cute but ended up really, truly hating the book. I wanted adventure and pirates and all I got was a very questionable historical fiction romance. Boo.
You can read my review of "Blackhearts" here.
---
Crimson Bound by Rosamund Hodge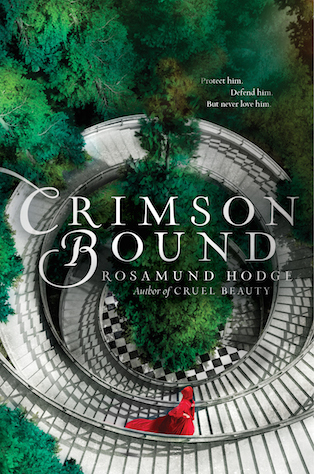 I loooove the cover for this book, it's mesmerizing and I actually enjoy most of Hodge's covers period. But just because a book has a pretty cover does not mean its contents will be as pretty, which is where I found myself. I thought the plot was extremely confusing, the pacing was all over the place, and the characters were all pretty "meh". This book had its good moments too but unfortunately I still didn't really enjoy this all that much.
You can read my review of "Crimson Bound" here.
---
Wink Poppy Midnight by April Geneive Tucholke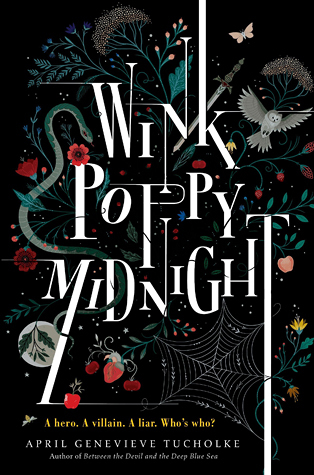 Oh…look who it is again. I guess it's safe to say Tucholke's writing just may not be for me. Her plots just get really messy and confusing and the synopsis on the book promised something quite different than what was delivered. I just felt like there wasn't a sold plot or story in this book, but I loooooove how pretty the cover is with all of the little plants, webs, and critters. I liked aspects of this book but just overall…meh.
You can read my review of "Wink Poppy Midnight" here.
---
A Fierce and Subtle Poison by Samantha Mabry
I wanted to love this book so desperately because the cover is so pretty with its tropical plants! However, I thought the premise was not executed well at all and the main character was extremely dull it would have been way better if we got to see more of the cursed girl whose touch is said to kill and who has green skin and grass for hair.
You can read my review of "A Fierce and Subtle Poison" here.
---
Unhooked by Lisa Maxwell
This cover looks dark and eerie and I pretty much love anything with a pirate ship on the front! Then to top it all off it's a Peter Pan retelling that's also dark and eerie!
So what went wrong? Everything. I was completely confused because the plot was a complete mess filled with tropes such as love triangles and insta-love. There was virtually no world building and that was a shame since this was a dark, twisted version of Neverland! What a let down….
You can read my review of "Unhooked" here.
---
The Darkest Part of the Forest by Holly Black
I really loved the white cover with all of the overgrowth and the font is really neat looking as well, however, this was….a mess. Yet another book with a pretty cover whose plot is never explained and lots of things in general are left unexplained along with very under developed characters. There really was so much potential here….
You can read my review of "The Darkest Part of the Forest" here.
Have you read any of these books? What did you think?
Were you disappointed with any of these?
Do you think any of these covers are gorgeous as well?
What are some of your most disappointing books in disguise?
Let me know in the comments!