Top Ten Tuesday is a weekly meme hosted by The Broke and The Bookish.
This week's theme is a Halloween themed freebie and one of the suggested themes was horror books on my TBR, so easy-peasy! I love talking about books I have yet to read almost as much as ones I have read and seeing as how I'll be posting my favorite Halloween reads later this week this choice of theme was perfect!
10.) A Taste For Monsters by Matthew J. Kirby
IT'S LONDON 1888, and Jack the Ripper is terrorizing the people of the city. Evelyn, a young woman disfigured by her dangerous work in a matchstick factory, who has nowhere to go, does not know what to make of her new position as a maid to the Elephant Man in the London Hospital. Evelyn wants to be locked away from the world, like he is, shut in from the filth and dangers of the streets. But in Joseph Merrick, the Elephant Man, she finds a gentle kindred who does not recoil from her and who understands her pain. When the murders begin, however, Joseph and Evelyn are haunted nightly by the ghosts of the Ripper's dead, setting Evelyn on a path to facing her fears and uncovering humanity's worst nightmares.
A Taste for Monsters is a terrifying and haunting tale of the monstrosity of men and the salvation one may find in the unlikeliest places, from Edgar Award–winning author Matthew J. Kirby.
This is the newest addition to my Horror TBR every since I saw Lola's review on Goodreads. It seems to be the book I wanted "Stalking Jack The Ripper" to be, with more actually horror and suspense.
---
9.) The Dead Girls of Hysteria Hall by Katie Alender
In this asylum, your mind plays tricks on you all the time…
Delia's new house isn't just a house. Long ago, it was the Piven Institute for the Care and Correction of Troubled Females—an insane asylum nicknamed "Hysteria Hall." However, many of the inmates were not insane, just defiant and strong willed. Kind of like Delia herself.
But the house still wants to keep "troubled" girls locked away. So, in the most horrifying way, Delia gets trapped.
And that's when she learns that the house is also haunted.
Ghost girls wander the halls in their old-fashioned nightgowns. A handsome ghost boy named Theo roams the grounds. Delia finds that all the spirits are unsettled and full of dark secrets. The house, as well, harbors shocking truths within its walls—truths that only Delia can uncover, and that may set her free.
But she'll need to act quickly, before the house's power overtakes everything she loves.
This one actually has quite a few good reviews and along with the creepy cover and premise I had to add it to my TBR! Unfortunately it isn't something I find to be pressing but I think I'll read it eventually…..
---
8.) The House by Christina Lauren
Gavin tells Delilah he's hers—completely—but whatever lives inside that house with him disagrees.
After seven years tucked away at an East coast boarding school, Delilah Blue returns to her small Kansas hometown to find that not much has changed. Her parents are still uptight and disinterested, her bedroom is exactly the way she left it, and the outcast Gavin Timothy still looks like he's crawled out of one of her dark, twisted drawings.
Delilah is instantly smitten.
Gavin has always lived in the strange house: an odd building isolated in a stand of trees where the town gives in to mild wilderness. The house is an irresistible lure for Delilah, but the tall fence surrounding it exists for good reason, and Gavin urges Delilah to be careful. Whatever lives with him there isn't human, and isn't afraid of hurting her to keep her away.
Sounds interesting, looks interesting, may be interesting. I don't think it will be terrifying but it might have a good, eerie atmosphere.
---
7.) Heart-Shaped Box by Joe Hill
Aging, self-absorbed rock star Judas Coyne has a thing for the macabre — his collection includes sketches from infamous serial killer John Wayne Gacy, a trepanned skull from the 16th century, a used hangman's noose, Aleister Crowley's childhood chessboard, etc. — so when his assistant tells him about a ghost for sale on an online auction site, he immediately puts in a bid and purchases it.
The black, heart-shaped box that Coyne receives in the mail not only contains the suit of a dead man but also his vengeance-obsessed spirit. The ghost, it turns out, is the stepfather of a young groupie who committed suicide after the 54-year-old Coyne callously used her up and threw her away. Now, determined to kill Coyne and anyone who aids him, the merciless ghost of Craddock McDermott begins his assault on the rocker's sanity.
I found out this was Stephen King's son and along with the premise for this book I had to get my hands on a copy. I did and from what I read it was creepy as hell! Unfortunately I set it aside and have yet to get back to it but when I do I'm sure I won't be disappointed.
---
6) Shutter by Courtney Alameda
Micheline Helsing is a tetrachromat—a girl who sees the auras of the undead in a prismatic spectrum. As one of the last descendants of the Van Helsing lineage, she has trained since childhood to destroy monsters both corporeal and spiritual: the corporeal undead go down by the bullet, the spiritual undead by the lens. With an analog SLR camera as her best weapon, Micheline exorcises ghosts by capturing their spiritual energy on film. She's aided by her crew: Oliver, a techno-whiz and the boy who developed her camera's technology; Jude, who can predict death; and Ryder, the boy Micheline has known and loved forever.
When a routine ghost hunt goes awry, Micheline and the boys are infected with a curse known as a soulchain. As the ghostly chains spread through their bodies, Micheline learns that if she doesn't exorcise her entity in seven days or less, she and her friends will die. Now pursued as a renegade agent by her monster-hunting father, Leonard Helsing, she must track and destroy an entity more powerful than anything she's faced before . . . or die trying.
This has one of the creepiest freaking covers I've ever seen! Plus it sounds super cool and has some pretty good reviews, I will be getting a copy soon and will probably read it before the year's up but we shall see.
---
5.) The Call by Peadar O'Guilin
Imagine a world where you might disappear any minute, only to find yourself alone in a grey sickly land, with more horrors in it than you would ever wish to know about. And then you hear a horn and you know that whoever lives in this hell has got your scent and the hunt has already begun.
Could you survive the Call?
I saw this book kind of floating around and it piqued my iterest but what really convince me to add this book to my TBR was a review by Esther @ Chapter Adventures! This sounds like survival horror and it sounds well done so I'm very excited to get a copy!
---
4.) Mary: The Summoning by Hillary Monahan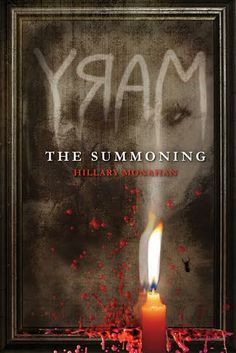 There is a right way and a wrong way to summon her.
Jess had done the research. Success requires precision: a dark room, a mirror, a candle, salt, and four teenage girls. Each of them–Jess, Shauna, Kitty, and Anna–must link hands, follow the rules . . . and never let go.
A thrilling fear spins around the room the first time Jess calls her name: "Bloody Mary. Bloody Mary. BLOODY MARY." A ripple of terror follows when a shadowy silhouette emerges through the fog, a specter trapped behind the mirror.
Once is not enough, though–at least not for Jess. Mary is called again. And again. But when their summoning circle is broken, Bloody Mary slips through the glass with a taste for revenge on her lips. As the girls struggle to escape Mary's wrath, loyalties are questioned, friendships are torn apart, and lives are forever altered.
A haunting trail of clues leads Shauna on a desperate search to uncover the legacy of Mary Worth. What she finds will change everything, but will it be enough to stop Mary–and Jess–before it's too late?
Normally I probably wouldn't want to read this sine it's reviews are just okay but I got it on my Kindle for $1.99 (Which it is right now by the way!!!) so I figured I'd just give it a shot. Hopefully it's at least a little scary.
---
3.) The Suffering (The Girl From The Well #2) by Rin Chupeco
Seventeen-year-old Tark knows what it is to be powerless. But Okiku changed that. A restless spirit who ended life as a victim and started death as an avenger, she's groomed Tark to destroy the wicked. But when darkness pulls them deep into Aokigahara, known as Japan's suicide forest, Okiku's justice becomes blurred, and Tark is the one who will pay the price…
Okay so I LOVED "The Girl From The Well" and was absolutely terrified by it so of course I need to read the sequel.
---
2.) Say Her Name by James Dawson
Roberta 'Bobbie' Rowe is not the kind of person who believes in ghosts. A Halloween dare at her ridiculously spooky boarding school is no big deal, especially when her best friend Naya and cute local boy Caine agree to join in too. They are ordered to summon the legendary ghost of 'Bloody Mary': say her name five times in front of a candlelit mirror, and she shall appear… But, surprise surprise, nothing happens. Or does it?
Next morning, Bobbie finds a message on her bathroom mirror… five days… but what does it mean? And who left it there? Things get increasingly weird and more terrifying for Bobbie and Naya, until it becomes all too clear that Bloody Mary was indeed called from the afterlife that night, and she is definitely not a friendly ghost. Bobbie, Naya and Caine are now in a race against time before their five days are up and Mary comes for them, as she has come for countless others before.
Another Bloody Mary story but this one was recommended to me by Lauren @ Wonderless Reads and I've seen a few other reviews floating around recently that have convinced me I should probably get my hands on a copy soon.
---
1.) The Women in the Walls by Amy Lukavics
Lucy Acosta's mother died when she was three. Growing up in a Victorian mansion in the middle of the woods with her cold, distant father, she explored the dark hallways of the estate with her cousin, Margaret. They're inseparable—a family.  
When her aunt Penelope, the only mother she's ever known, tragically disappears while walking in the woods surrounding their estate, Lucy finds herself devastated and alone. Margaret has been spending a lot of time in the attic. She claims she can hear her dead mother's voice whispering from the walls. Emotionally shut out by her father, Lucy watches helplessly as her cousin's sanity slowly unravels. But when she begins hearing voices herself, Lucy finds herself confronting an ancient and deadly legacy that has marked the women in her family for generations.
I really enjoyed Amy Lukavics debut novel "Daughters Unto Devils" so I can't wait to get a hold of her newest book especially with that awesome, creepy cover! I have heard it's not quite as terrifying but very much creepy which is still okay with me.
What are some of your favorite horror books?
Have you read any of these on my list?
What books do you recommend for a Halloween read?
Let me know in the comments and feel free to link up your TTT as well!