This is a weekly meme hosted by Breaking The Spine.
This meme is all about letting us know what we're excited for in upcoming releases and also letting us rant and rave about them!
What I'm Waiting For: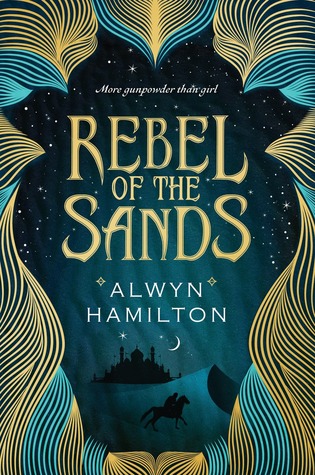 She's more gunpowder than girl—and the fate of the desert lies in her hands.
Mortals rule the desert nation of Miraji, but mystical beasts still roam the wild and barren wastes, and rumor has it that somewhere, djinni still practice their magic. But there's nothing mystical or magical about Dustwalk, the dead-end town that Amani can't wait to escape from.
Destined to wind up "wed or dead," Amani's counting on her sharpshooting skills to get her out of Dustwalk. When she meets Jin, a mysterious and devastatingly handsome foreigner, in a shooting contest, she figures he's the perfect escape route. But in all her years spent dreaming of leaving home, she never imagined she'd gallop away on a mythical horse, fleeing the murderous Sultan's army, with a fugitive who's wanted for treason. And she'd never have predicted she'd fall in love with him…or that he'd help her unlock the powerful truth of who she really is.
Publish Date: March 8th, 2016
I'm a little wary of this one just because of the whole "she never predicted she'd fall in love with him" bit. It's no secret I'm not a fan of romance unless it's done REALLY well. But I'm also a terrible sucker for anything in the fantasy genre, especially YA fantasy.
Promises of mythical beasts and magic? Yes, I'm definitely in.
What are you waiting for this Wednesday? Are you also excited for "Rebel of the Sands"? Feel free to leave comments or link to your Waiting on Wednesday!