Top Ten Tuesday is a weekly meme hosted by Jamie @ The Broke and the Bookish.
This week's theme is pretty self-explanatory: our most anticipated releases for the second half of the year! There are so, so many wonderful ones that are coming up but these are a few of the ones I'm the MOST excited for!
10.) The Hanging Girl by Eileen Cook
Skye Thorn has given tarot card readings for years, and now her psychic visions are helping the police find the town's missing golden girl. It's no challenge—her readings have always been faked, but this time she has some insider knowledge. The kidnapping was supposed to be easy—no one would get hurt and she'd get the money she needs to start a new life. But a seemingly harmless prank has turned dark, and Skye realizes the people she's involved with are willing to kill to get what they want and she must discover their true identity before it's too late.
I really enjoyed Eileen Cook's "With Malice" and so of course I'd like to check out her newest book especially since it sounds just as thrilling and maybe even a little spooky.
---
9.) The Tiger's Daughter by K. Arsenault Rivera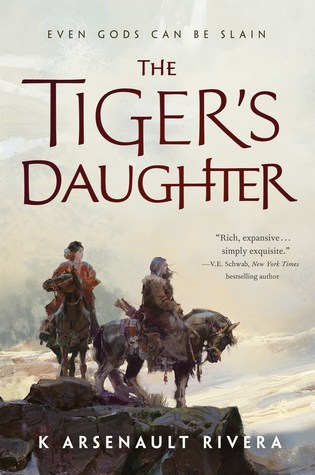 Even gods can be slain….
The Hokkaran empire has conquered every land within their bold reach―but failed to notice a lurking darkness festering within the people. Now, their border walls begin to crumble, and villages fall to demons swarming out of the forests.
Away on the silver steppes, the remaining tribes of nomadic Qorin retreat and protect their own, having bartered a treaty with the empire, exchanging inheritance through the dynasties. It is up to two young warriors, raised together across borders since their prophesied birth, to save the world from the encroaching demons.
This is the story of an infamous Qorin warrior, Barsalayaa Shefali, a spoiled divine warrior empress, O-Shizuka, and a power that can reach through time and space to save a land from a truly insidious evil.
First of all the tag line just grabs my attention immediately! I also really love the unique and Asian-esque fantasy theme, there's demons, and sounds like the female characters are going to be BADASS!
---
8.) There's Someone In Your House by Stephanie Perkins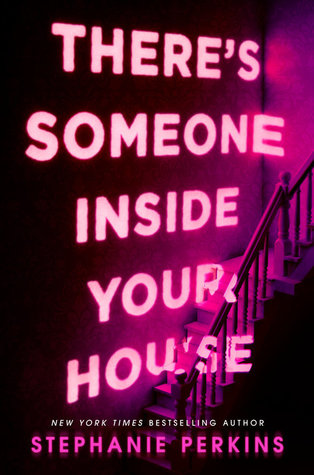 One-by-one, the students of Osborne High are dying in a series of gruesome murders, each with increasing and grotesque flair. As the terror grows closer and the hunt intensifies for the killer, the dark secrets among them must finally be confronted.
International bestselling author Stephanie Perkins returns with a fresh take on the classic teen slasher story that's fun, quick-witted, and completely impossible to put down.
It is being marketed as a sort of YA version of the Scream movie franchise which has me 100% sold right there because I love those movies…. plus there really aren't enough YA horror books out there and especially not that many slasher stories!
---
7.) The Arsonist by Stephanie Oakes
Molly Mavity is not a normal teenage girl. For one thing, her father is a convicted murderer, and his execution date is fast approaching. For another, Molly refuses to believe that her mother is dead, and she waits for the day when they'll be reunited . . . despite all evidence that this will never happen.
Pepper Yusef is not your average teenage boy. A Kuwaiti immigrant with epilepsy, serious girl problems, and the most useless seizure dog in existence, he has to write a series of essays over the summer . . . or fail out of school.
And Ava Dreyman—the brave and beautiful East German resistance fighter whose murder at seventeen led to the destruction of the Berlin Wall—is unlike anyone you've met before.
When Molly gets a package leading her to Pepper, they're tasked with solving a decades-old mystery: find out who killed Ava, back in 1989. Using Ava's diary for clues, Molly and Pepper realize there's more to her life—and death—than meets the eye. Someone is lying to them. And someone out there is guiding them along, desperate for answers.
I read and loved Stephanie Oakes' novel "The Sacred Lies of Minnow Bly" and so I'd really love to read her new books just because it's her. I'm very curious to see how all of these different timelines and characters will interconnect though, sounds very intriguing. Plus look at how gorgeous this cover is!
---
6.) Final Girls by Riley Sager
Ten years ago, college student Quincy Carpenter went on vacation with five friends and came back alone, the only survivor of a horror movie–scale massacre. In an instant, she became a member of a club no one wants to belong to—a group of similar survivors known in the press as the Final Girls. Lisa, who lost nine sorority sisters to a college dropout's knife; Sam, who went up against the Sack Man during her shift at the Nightlight Inn; and now Quincy, who ran bleeding through the woods to escape Pine Cottage and the man she refers to only as Him. The three girls are all attempting to put their nightmares behind them, and, with that, one another. Despite the media's attempts, they never meet.
Now, Quincy is doing well—maybe even great, thanks to her Xanax prescription. She has a caring almost-fiancé, Jeff; a popular baking blog; a beautiful apartment; and a therapeutic presence in Coop, the police officer who saved her life all those years ago. Her memory won't even allow her to recall the events of that night; the past is in the past.
That is, until Lisa, the first Final Girl, is found dead in her bathtub, wrists slit, and Sam, the second, appears on Quincy's doorstep. Blowing through Quincy's life like a whirlwind, Sam seems intent on making Quincy relive the past, with increasingly dire consequences, all of which makes Quincy question why Sam is really seeking her out. And when new details about Lisa's death come to light, Quincy's life becomes a race against time as she tries to unravel Sam's truths from her lies, evade the police and hungry reporters, and, most crucially, remember what really happened at Pine Cottage, before what was started ten years ago is finished.
I know I JUST said I don't think there are enough YA (this may be considered more new adult or adult though….) horror stories including slasher stories? Yeah, definitely excited there's another one coming up! This one sounds very suspenseful as well as terrifying and I've always found the "Final Girl" concept really interesting!
---
5.) Retribution Rails by Erin Bowman
REDEMPTION IS NEVER FREE
When Reece Murphy is forcibly dragged into the Rose Riders gang because of a mysterious gold coin in his possession, he vows to find the man who gave him the piece and turn him over to the gang in exchange for freedom. Never does he expect a lead to come from an aspiring female journalist. But when Reece's path crosses with Charlotte Vaughn after a botched train robbery and she mentions a promising rumor about a gunslinger from Prescott, it becomes apparent that she will be his ticket to freedom—or a noose. As the two manipulate each other for their own ends, past secrets are unearthed, reviving a decade-old quest for revenge that may be impossible to settle.
In this thrilling companion to Vengeance Road, dangerous alliances are formed, old friends meet new enemies, and the West is wilder than ever.
I did enjoy "Vengeance Road" although I did still have some issues with it, the romance in particular but I'm definitely not going to deny I'm still excited for a companion novel! YA westerns are another genre that isn't very common so I'll take what I can get and especially with a cover that dang pretty!
---
4.) The Ravenous by Amy Lukavics
From the outside, the Cane family looks like they have it all. A successful military father, a loving mother and five beautiful teenage daughters. But on the inside, life isn't quite so idyllic: the Cane sisters can barely stand each other, their father is always away, and their neglectful mother struggles with addiction and depression.
When their youngest and most beloved sister, Rose, dies in a tragic accident, Mona Cane and her sisters are devastated. And when she is brought back from the dead, they are relieved. But soon they discover that Rose must eat human flesh to survive, and when their mother abandons them, the sisters will find out just how far they'll go to keep their family together.
It's no surpsie that I'm excited for Amy Lukavics' newest novel since I really enjoyed both of her previous ones. These are usually very short, terrifying YA horror novels that are also always very unique in one way or another and a new one with …..zombie sister sounds amazing!
---
3.) Godsgrave (The Nevernight Chronicle #2) by Jay Kristoff
Assassin Mia Corvere has found her place among the Blades of Our Lady of Blessed Murder, but many in the Red Church ministry think she's far from earned it. Plying her bloody trade in a backwater of the Republic, she's no closer to ending Consul Scaeva and Cardinal Duomo, or avenging her familia. And after a deadly confrontation with an old enemy, Mia begins to suspect the motives of the Red Church itself.
When it's announced that Scaeva and Duomo will be making a rare public appearance at the conclusion of the grand games in Godsgrave, Mia defies the Church and sells herself to a gladiatorial collegium for a chance to finally end them. Upon the sands of the arena, Mia finds new allies, bitter rivals, and more questions about her strange affinity for the shadows. But as conspiracies unfold within the collegium walls, and the body count rises, Mia will be forced to choose between loyalty and revenge, and uncover a secret that could change the very face of her world.
I NEED this sequel like I need oxygen! It's no secret I practically worship the ground Jay Kristoff walks on when it comes to amazing storytelling so I'm super pumped to see where this series is going to go next, especially after all the hell that went down in the last book!
---
2.) Little Monsters by Kara Thomas
Kacey is the new girl in Broken Falls. When she moved in with her father, she stepped into a brand-new life. A life with a stepbrother, a stepmother, and strangest of all, an adoring younger half sister.
Kacey's new life is eerily charming compared with the wild highs and lows of the old one she lived with her volatile mother. And everyone is so nice in Broken Falls—she's even been welcomed into a tight new circle of friends. Bailey and Jade invite her to do everything with them.
Which is why it's so odd when they start acting distant. And when they don't invite her to the biggest party of the year, it doesn't exactly feel like an accident.
But Kacey will never be able to ask, because Bailey never makes it home from that party. Suddenly, Broken Falls doesn't seem so welcoming after all—especially once everyone starts looking to the new girl for answers.
Kacey is about to learn some very important lessons: Sometimes appearances can be deceiving. Sometimes when you're the new girl, you shouldn't trust anyone.
Kara Thomas's debut novel "The Darkest Corners" was one of the best psychological thrillers I have ever read, it was dark, gritty, and very twisted! I could not see any of the twists coming at all and it was very suspenseful, I'm expecting her newest book to be exactly that too!
---
1.) Now I Rise (The Conqueror's Saga #2) by Kiersten White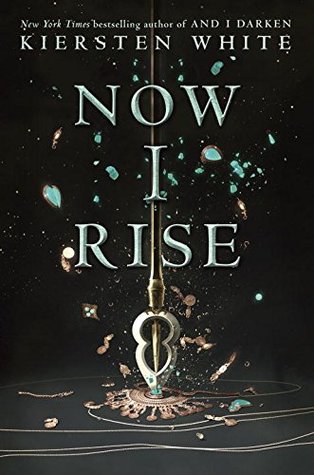 Lada Dracul has no allies. No throne. All she has is what she's always had: herself. After failing to secure the Wallachian throne, Lada is out to punish anyone who dares to cross her blood-strewn path. Filled with a white-hot rage, she storms the countryside with her men, accompanied by her childhood friend Bogdan, terrorizing the land. But brute force isn't getting Lada what she wants. And thinking of Mehmed brings little comfort to her thorny heart. There's no time to wonder whether he still thinks about her, even loves her. She left him before he could leave her.
What Lada needs is her younger brother Radu's subtlety and skill. But Mehmed has sent him to Constantinople—and it's no diplomatic mission. Mehmed wants control of the city, and Radu has earned an unwanted place as a double-crossing spy behind enemy lines. Radu longs for his sister's fierce confidence—but for the first time in his life, he rejects her unexpected plea for help. Torn between loyalties to faith, to the Ottomans, and to Mehmed, he knows he owes Lada nothing. If she dies, he could never forgive himself—but if he fails in Constantinople, will Mehmed ever forgive him?
As nations fall around them, the Dracul siblings must decide: what will they sacrifice to fulfill their destinies? Empires will topple, thrones will be won . . . and souls will be lost.
I didn't think I could wait a year for this sequel! This is a series that is a very dark, dramatic retelling of the history around Vlad the Impaler except in this he a female known as Lada who is just as vicious and fierce. I am practically screeching in excitement for the next book because it's sure to be just as entertaining as the first!
Are you excited for any of these releases as well?
Have you read any of them yet/ did you receive an ARC?
What are some of YOUR most anticipated releases for the second half of the year?
Let me know in the comments!