I saw a video on Regan's channel Peruse Project that was "5 Star TBR Predictions" and it looked like so much fun so I thought I would give it a shot as well! Basically I will be picking books off of my TBR that I believe will be 5 star reads for me, I don't rate a ton of books 5 stars they have to be PERFECTION for that. Hopefully I won't be setting the bar too high for these and will still enjoy them when I get to them!
Strange The Dreamer by Laini Taylor
So I have read two other books of Laini's and ADORED them so with that alongside the fact that the synopsis sounds amazing for this book I can pretty much guarantee I'll love it. The writing will be A+ because ya know….it's Laini Taylor and she writes so beautifully plus her unique world building and mythology is always good too so really I can't think of a single reason why this book wouldn't be a five star read for me.
---
The Final Empire by Brandon Sanderson
I've honestly heard nothing but good things about this book (and series) and I KNOW Sanderson is a fantastic fantasy author and I'm positive this book will include a great magic system and a unique plot and world. For me a good fantasy book will have great world building and I just feel like Sanderson will deliver that. Therefore I have a pretty good feeling I'll end up rating this a full five stars.
---
The Child Thief by Brom
"Peter Pan" is pretty much my FAVORITE fairy tale/ story and I'm pretty much down for any kind of retelling of it. I also LOVE dark retellings and "The Child Thief" is definitely a very dark retelling. I'm really hoping it'll be a great, unique retelling with a creative spin on Peter Pan and also full of dark happenings. If that all proves true I'll probably be rating it 5 stars!
---
Eon by Alison Goodman
Not only have I heard quite a few good things about this book/duology but the premise just sounds like something I know I'll love: dragons + a badass female protagonist. I also cheated a bit and started reading part of it and really enjoyed what I read!
---
Song of Achilles by Madeline Miller
I think the idea of a "retelling" of "The Iliad" is very creative and unique so I'm all for it! I also like that it's a M/M romance between Achilles and Patroclus, honestly I just know everything from the setting to the characters will more than likely be 5 stars for me.
---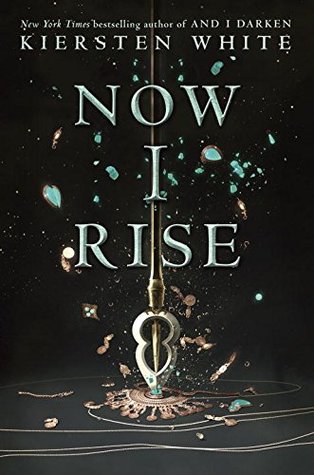 Now I Rise by Kiersten White
I absolutely LOVED the first book, I thought the characters were absolutely fantastic and  all of the political intrigue was fascinating. I expect nothing less from the sequel!
---
Little Monsters by Kara Thomas
I really loved Thomas's book "The Darkest Corners" it was so suspenseful, dark, and twisted. I think this one sounds just as twisted and I'm super excited to read it, if it's as dark as the other book I will more than likely be giving it a full 5 star rating!
---
Golden Son by Pierce Brown
If you've read "Red Rising" you'll understand why this is going to be a 5 star read. Bring it on, I'm ready to be emotionally destroyed again.
---
Kinslayer by Jay Kristoff
"Stormdancer" was A-MA-ZING with all of the plot twists, world building, and badass characters! Honestly I'm expecting the sequel to at least be just as good, and if it is it is a definite 5 star rating from this girl!
---
Dear Martin by Nic Stone
I'm very, very excited to read this book especially since it seems similar to "The Hate U Give" which I thought was an amazing, powerful book. I expect nothing less from "Dear Martin" I'm extremely confident that I will love it. I'm actually going to be reading it here within the next two weeks as I got it from the library!
Have you read any of these books? What did you think?
What are some books on your TBR that you think will be 5 star reads?
Let me know in the comments!