I found this amazing little tag on Hardback Hoarder's channel, she has so many great tags so definitely go check her out! The original creator of this tag is @the.book.gypsy on Instagram.
1.) What book gave you the creeps?
"Mary: The Summoning" just because Bloody Mary has always scared the crap out of me and I hate disjointed crawling, which is feature in this book! Nightmares! It's also a really short book but one I really ended up enjoying.
---
2.) What book gives you the best Halloween vibes?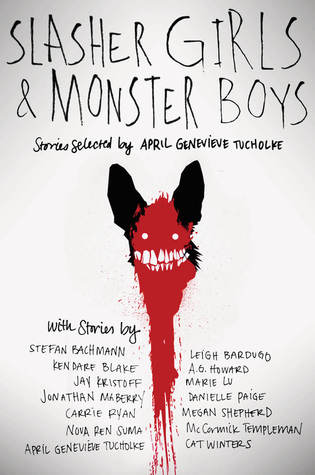 "Slasher Girls & Monster Boys" it's a YA anthology of horror stories and some of them are super creepy, perfect for Halloween. I just think it really gives off those vibes since there's all sorts of different styles of horror in this book!
---
3.) What's your favorite vampire book?
"Dracula", easily. While I did enjoy some of the "Twilight craze vampire books" I think "Dracula" is just the best one I've read. I mean it IS the traditional vampire story we base all of these other stories off of!
---
4.) What book scared you so much you had to sleep with the light on?
A mixture of two books I've already mentioned: "Mary: The Summoning" and "Slasher Girls & Monster Boys". The first one because Blood Mary terrifies me and so does disjointed crawling and then the second story in the anthology called "In The Forest Dark and Deep" which is seriously one of the creepiest stories I've ever read! It's a retelling of 'Alice in Wonderland' and I don't even know how to describe it, it's just scary!
---
5.) What's your favorite book about witches/goblins/ghosts/demons?
Witches: Bad Blood by Demitria Lunetta
Goblins: Lips Touch Three Times by Laini Taylor (The 1st Story)
Ghosts: Anna Dressed in Blood by Kendare Blake
Demons: Daughters Unto Devils by Amy Lukavics
---
6.) What book do you wish was scarier than it was?
"Campfire" was definitely not as scary as I hoped it would be, I mean it's set up in the mountains and the characters all tell scary stories around the campfire! So much potential to be super scary! However, it felt a bit more like a mystery/thriller than a horror book which was unfortunate.
---
7.) What's your favorite book that takes place in October?
Is it sad that I don't remember? I'm sure I've read plenty but I honestly cannot think of any!
Tag! You're It!
I'm going to tag a few of my newer followers! But of course I'm going to tag Destiny @ Howling Libraries because she's my buddy on all things horror!
(As usual do not feel obligated to do this tag if you don't want to and sorry if you've done this one already, feel free to ignore this! Also if you'd like to do this tag but were not specifically tagged, consider yourself tagged!)
Brittany @ Brittany and Her Bookshelf
Follow Me Elsewhere: Twitter * Instagram * Goodreads