Okay so this is coming a few days late but hey I finished it, right? The purpose of this post/survey is to essentially go over everything you read and did on your blog this past year!
This is an annual survey hosted by Jamie over at The Perpetual Page Turner so feel free to do this survey as well and link up to her page!
I also have reviews for most of these books up but will not be linking all of them because that would take forever.
2016 Reading Stats
Number Of Books You Read: 75
Number of Re-Reads: 0
Genre You Read The Most From: Fantasy
---
Best In Books
1. Best Book You Read In 2016?
(If you have to cheat — you can break it down by genre if you want or 2016 release vs. backlist)
There are so many! Alas, I must go with "Stormdancer" though because I was so blown away by this book with it's awesome world building, badass heroine, and talking animal companion. Not to mention the plot twists are insane!
2. Book You Were Excited About & Thought You Were Going To Love More But Didn't?
I was expecting a great show of magical abilities, a fight to the death, and some great world building for a high fantasy version of Russia. Not what I got at all. Love triangles is what I actually got.
 3. Most surprising (in a good way or bad way) book you read?  
I was not expecting to love this book at all since most YA Paranormal books usually disappoint me because they're really cliched. However, I was super surprised by how interesting, unique, and compelling the story line was as well as how charismatic the characters ended up being.
 4. Book You "Pushed" The Most People To Read (And They Did)?

I recommend quite a few books to people but I've been pushing Jay Kristoff books the most lately and "Stormdancer" is the #1 book I recommend. How many people have actually read it? I don't think any but I think a few people at least added it to their TBRs!
 5. Best series you started in 2016? Best Sequel of 2016? Best Series Ender of 2016?

I would say the best series I started in 2016 was The Raven Cycle since I read the first two books already and they were awesome, I'm definitely looking forward to continuing it. Most series slow down and get less interesting but I don't think that's the case here.
The Dream Thieves is the best sequel I read this year since the other couple I read weren't as good as their first books. This one I think was even better than "The Raven Boys" but maybe that's because Ronan was the focus……
Also I did not read any series enders this year that I enjoyed so I'm throwing this one out.
 6. Favorite new author you discovered in 2016?
Jay Kristoff! I read 4 of his books this year and am definitely checking out anything and everything he writes from now on!
7. Best book from a genre you don't typically read/was out of your comfort zone?

I rarely read contemporary books and I definitely do not read contemporary romance books but something about "Paper Princess" sounded like I might enjoy it and boy was I right. It was just so addictive and I couldn't put it down!
 8. Most action-packed/thrilling/unputdownable book of the year?

Once I started this book I literally could not put it down until I finished, it's ridiculously fast paced and the action and twists never stop.
 9. Book You Read In 2016 That You Are Most Likely To Re-Read Next Year?
I don't re-read a lot of books and I definitely don't re-read them after only a year since I have so many other books that need to be read. However, "Nimona" is a graphic novel that I could easily re-read in a day and it was entertaining enough for me to do it as well!
10. Favorite cover of a book you read in 2016?
I mean just look at it! It's gorgeous!
11. Most memorable character of 2016?

Lada Dracul from "And I Darken" even though there are a ton of characters I loved there's something about Lada's ferociousness that just made her my favorite this year. A YA heroine who is actually a badass and in NO WAY a damsel!
 12. Most beautifully written book read in 2016?
This one was a bit of a toss up for me since both of these books have the most beautiful writing I've come across, it's so lyrical and vivid in both!
13. Most Thought-Provoking/ Life-Changing Book of 2016?
I would say none really….I usually read sci-fi and fantasy and none of those are exactly life changing. However, I'd say I really had to think and follow "Nevernight" closely to understand the world and what was happening.
 14. Book you can't believe you waited UNTIL 2016 to finally read? 
I was so surprised with this book since I did not expect to enjoy it at all and by the time I finished it I was definitely asking myself why it took me so long to pick up this book!
 15. Favorite Passage/Quote From A Book You Read In 2016?
"The books we love, they love us back. And just as we mark our places in the pages, those pages leave their marks on us. I can see it in you, sure as I see it in me. You're a daughter of the words. A girl with a story to tell." – Nevernight by Jay Kristoff
There are so many quotes from so many great books this year that I can't narrow it down! This one is pretty great though since it's from one of my favorite authors and it's about readers and books.
16.Shortest & Longest Book You Read In 2016?
(How I did this: Went to my read books on Goodreads and sorted by page number and just looked for what I knew I read this year that was the shortest and longest.)
Adulthood is a Myth (mostly pictures…) was 109 pages and Gemina was 608 pages (with some pictures also….).
 17. Book That Shocked You The Most

(Because of a plot twist, character death, left you hanging with your mouth wide open, etc.)
So many shocking twists, betrayals, and character deaths!!!!!!!!!!!!!!! It was awesome and soul-crushing all at once.
18. OTP OF THE YEAR (you will go down with this ship!)

(OTP = one true pairing if you aren't familiar)
*********** MILD SPOILERS FOR THE DIABOLIC BELOW *************
Tyrus and Nemesis from "The Diabolic"! I shipped them so hard and their romance was so freaking adorable.
*******SPOILERS END*********
19. Favorite Non-Romantic Relationship Of The Year
Lada and Radu from "And I Darken" they had a very intense and abnormal sibling relationship but deep down they care for each other and protect each other.
20. Favorite Book You Read in 2016 From An Author You've Read Previously
I actually haven't read that many books by authors I've read before so I read my first Laini Taylor book last year and loved it so much I gave "Daughter of Smoke and Bone" a try and loved this one as well.
21. Best Book You Read In 2016 That You Read Based SOLELY On A Recommendation From Somebody Else/Peer Pressure:
I hadn't even given this book a glance until Ariana @ The Quirky Book Nerd recommended it to me and since we have similar tastes I immediately added it and ended up loving it!
22. Newest fictional crush from a book you read in 2016?
Um I would have to go with Ronan Lynch from The Raven Boys……
23. Best 2016 debut you read?
I will definitely be keeping an eye out for any future books by Hannah West because of how wonderful this book was! The writing, the world, the characters, and just the fact that it's a bunch of fairy tale retellings all rolled into to one!
24. Best Worldbuilding/Most Vivid Setting You Read This Year?
Let's see this book has steampunk, dystopian, mythology  with monsters, gods, and the like, it has everything! It's amazing and definitely a world that is so interesting and vivid you can't help but get lost in it.
25. Book That Put A Smile On Your Face/Was The Most FUN To Read?
This was such a light-hearted, entertaining, silly, and FUN read! Definitely had me laughing and smiling the entire time I was reading it!
26. Book That Made You Cry Or Nearly Cry in 2016?
It really doesn't take much to make me cry these days and this book was so touching with it's heartbreaks and happiness throughout. Gosh….these dang tears!
27. Hidden Gem Of The Year?
Not enough people have read this book let alone even heard about it so this is definitely a hidden gem of a book and you all need to read it STAT!
28. Book That Crushed Your Soul?
HOW COULD YOU JAY KRISTOFF?! The twists and deaths in this book literally DESTROYED me!!!!!!!!!!
29. Most Unique Book You Read In 2016?
I have to put these two together for their formatting because it made for such a unique and cool reading experience.
30. Book That Made You The Most Mad (doesn't necessarily mean you didn't like it)?
This book was TERRIBLE! It is marketed as being like "Gone Girl" and "The Girl on the Train" and while it has manipulative characters they are so unbelievably mediocre that it's insulting to have this book compared to those other books. So yes this book made me MAD!
---
Your Blogging/ Bookish Life
1. New favorite book blog you discovered in 2016?
Okay soooo I can't exactly remember which blogs I officially followed in 2016 instead of 2015 and WordPress sorts by date but it doesn't say which date I followed……. So I'm essentially winging it!
Lauren @ Wonderless Reviews * Kourtni @ Kourtni Reads * Larkin @ Wonderfilled Reads * Emily @ Rose Read * Esther @ Chapter Adventures * Melissa @ Book Nerd Momo * Hannah @ A Mortal Reader * Sarah @ Freadom Library * Chelsea @ Rom Weasley * Nicole @ Books Inked * Alicia @ A Kernel of Nonsense * Caitlin @ Words and Other Beasts * Megan @ Book Slayer Reads *
2. Favorite review that you wrote in 2016?
I usually don't have favorites among my reviews but I'll go with my review of "Illuminae" since I think I put a lot of thought and time into it!
Review Link: "Illuminae" by Jay Kristoff & Amie Kaufman
3. Best discussion/non-review post you had on your blog?
I would say I have two favorites one was a post on how to start a book blog and one was a discussion post on e-readers vs. physical books!
Book Blogging Tips: How To Start A Book Blog: Steps, Advice, and Tips All In One!
Discussion Post: (The Great Debate) E-Readers vs Physical Books, What Side Are You On?
4. Best event that you participated in (author signings, festivals, virtual events, memes, etc.)?
I don't really participate in anything because I'm pretty lazy I do, however, participate in memes such as Top Ten Tuesday and Top 5 Wednesday.
5. Best moment of bookish/blogging life in 2016?
Nooooo idea, like I said not too many exciting things happen to me with blogging or books. Except maybe when I get to buy lots of books……
6. Most challenging thing about blogging or your reading life this year?
I would say finding the time and motivation to read and write blog posts sometimes. Slumps are easily the worst and most challenging thing to overcome with reading and blogging.
7. Most Popular Post This Year On Your Blog (whether it be by comments or views)?
The most popular post this year was my Halloween Book Tag and the most popular post that I actually posted this year was my Secret Life of a Book Blogger post.
8. Post You Wished Got A Little More Love?
I don't really know since I feel lucky my posts get any love at all! I would maybe go with one of my more recent posts: Best Books of 2016 Part 1: New Releases just because I figured end of the year posts with best books of the year are a little more popular.
9. Best bookish discover (book related sites, book stores, etc.)?
I would just say bookish stores on Etsy non in specific. This opened my eyes to all kinds of bookish possibilities with bookmarkes, book ends, and bookish candles!
10.  Did you complete any reading challenges or goals that you had set for yourself at the beginning of this year?
Just the Goodreads Reading Challenge which I had set my goal at 55 books and finished the year with 75!
---
Looking Ahead
1. One Book You Didn't Get To In 2016 But Will Be Your Number 1 Priority in 2017?
I've been saying I'll read this for a long time and I'm hoping I will finally read this in 2017! Fingers crossed!
2. Book You Are Most Anticipating For 2017 (non-debut)?
I need more Laini Taylor books and I'm super excited for her new series!
3. 2017 Debut You Are Most Anticipating?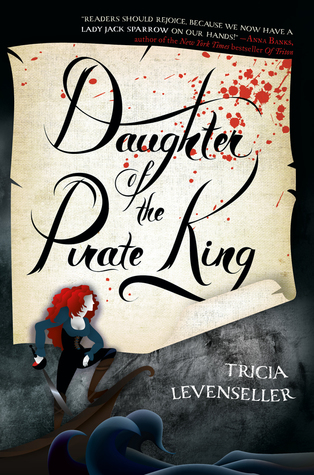 So HOPEFULLY this book is going to actually be about pirates and badass pirates at that too. I'm counting on you Tricia Levenseller!
4. Series Ending/A Sequel You Are Most Anticipating in 2017?
I NEED to know what will happen with Lada next! I absolutely adored the first book "And I Darken" and I'm definitely excited to continue with the sequel.
5. One Thing You Hope To Accomplish Or Do In Your Reading/Blogging Life In 2017?
I'm hoping to take out a significant chunk of my TBR books sitting on my shelves as well as getting up to 1,000 follower or at least close to!
6. A 2017 Release You've Already Read & Recommend To Everyone:
None yet but I have 3 ARCs I'm planning on reading this month: Exo by Fonda Lee, The Dragon's Price by Bethany Wiggins, and Wintersong by S. Jae-Jones.
Did you guys do the 2016 End of Year Book Survey as well? Link it up!
What were some of your bookish highlights in 2016?
Favorite/non-favorite books of 2016?
Let me know in the comments and feel free to link up your survey too!