Top Ten Tuesday is a weekly meme hosted by The Broke and The Bookish! So head on over there to check it out and participate!
This week's theme is 2016 releases we are most anticipating, well the first half of the year anyways….
I have a LOAD of options for this but alas I must limit it to only ten, also I've done a similar post to this you can find here. So even though there are some books in 2016 I'm anticipating MORE, I'll find new ones for this post so I don't sound like a broken record.
Here goes!
#10.) Sword and Verse by Kathy MacMillan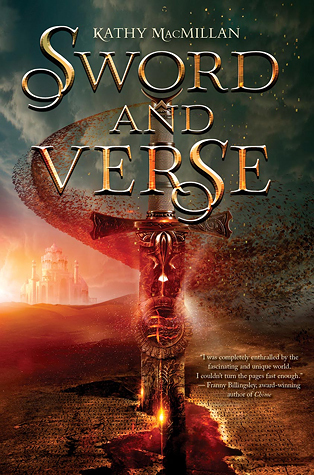 Release Date: January 19th, 2016
Description From Goodreads
Raisa was just a child when she was sold to work as a slave in the kingdom of Qilara. Despite her young age, her father was teaching her to read and write, grooming her to take his place as a Learned One. In Qilara, the Arnathim, like Raisa, are the lowest class, and literacy is a capital offense. What's more, only the king, prince, tutor, and tutor-in-training are allowed to learn the very highest order language, the language of the gods. So when the tutor-in-training is executed for teaching slaves this sacred language, and Raisa is selected to replace her, Raisa knows any slipup on her part could mean death.

Keeping her secret is hard enough, but the romance that's been growing between her and Prince Mati isn't helping matters. Then Raisa is approached by the Resistance—an underground army of slave rebels—to help liberate Arnath slaves. She wants to free her people, but that would mean aiding a war against Mati. As Raisa struggles with what to do, she discovers a secret that the Qilarites have been hiding for centuries—one that, if uncovered, could bring the kingdom to its knees.
Why I'm Excited:
I think you all know by now that I LOVE Fantasy! That also leaves me being quite picky though. I need a cast of characters, unique mythology, and some fantastic world-building if I'm going to love a fantasy book. I've seen some positive reviews for this book and I'm hoping it fits my high fantasy standards! So far I'm moderately excited for this one, still pretty unsure on it since that romance sounds like it might annoy me…..
~~~~~~~~~~~~~~~~~~~~
#9.) Into The Dim by Janet B. Taylor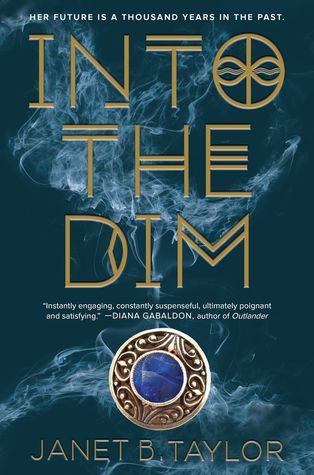 Release Date: March 1st, 2016
Description From Goodreads
When fragile, sixteen-year-old Hope Walton loses her mom to an earthquake overseas, her secluded world crumbles. Agreeing to spend the summer in Scotland, Hope discovers that her mother was more than a brilliant academic, but also a member of a secret society of time travelers. Trapped in the twelfth century in the age of Eleanor of Aquitaine, Hope has seventy-two hours to rescue her mother and get back to their own time. Along the way, her path collides with that of a mysterious boy who could be vital to her mission . . . or the key to Hope's undoing.  
Why I'm Excited:
Well I think this pretty much sounds like "Outlander" in Young Adult form, and even though I haven't finished "Outlander" YET it was pretty good from what I did read. Plus there's time travelers, what's not to be excited about?
~~~~~~~~~~~~~~~~~~~~
#8.) The Shadow Queen by C.J. Redwine
Release Date: February 16th, 2016
Description From Goodreads
Lorelai Diederich, crown princess and fugitive at large, has one mission: kill the wicked queen who took both the Ravenspire throne and the life of her father. To do that, Lorelai needs to use the one weapon she and Queen Irina have in common—magic. She'll have to be stronger, faster, and more powerful than Irina, the most dangerous sorceress Ravenspire has ever seen.

In the neighboring kingdom of Eldr, when Prince Kol's father and older brother are killed by an invading army of magic-wielding ogres, the second-born prince is suddenly given the responsibility of saving his kingdom. To do that, Kol needs magic—and the only way to get it is to make a deal with the queen of Ravenspire, promise to become her personal huntsman…and bring her Lorelai's heart.

But Lorelai is nothing like Kol expected—beautiful, fierce, and unstoppable—and despite dark magic, Lorelai is drawn in by the passionate and troubled king. Fighting to stay one step ahead of the dragon huntsman—who she likes far more than she should—Lorelai does everything in her power to ruin the wicked queen. But Irina isn't going down without a fight, and her final move may cost the princess the one thing she still has left to lose.
Why I'm Excited:
That's one long description isn't it? Pretty much the whole reason I'm excited is that it sounds like one kickass Snow White retelling. I can't wait to see how the Huntsman (Kol) will be portrayed, and then you know there's magic.
~~~~~~~~~~~~~~~~~~~~
#7.) Ruined by Amy Tintera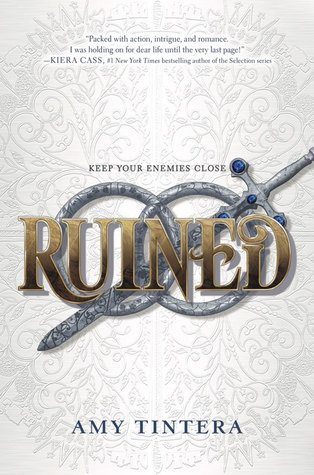 Release Date: May 3rd, 2016
Description From Goodreads
Emelina Flores has nothing. Her home in Ruina has been ravaged by war. She lacks the powers of her fellow Ruined. Worst of all, she witnessed her parents' brutal murders and watched helplessly as her sister, Olivia, was kidnapped.

But because Em has nothing, she has nothing to lose. Driven by a blind desire for revenge, Em sets off on a dangerous journey to the enemy kingdom of Lera. Somewhere within Lera's borders, Em hopes to find Olivia. But in order to find her, Em must infiltrate the royal family.

In a brilliant, elaborate plan of deception and murder, Em marries Prince Casimir, next in line to take Lera's throne. If anyone in Lera discovers Em is not Casimir's true betrothed, Em will be executed on the spot. But it's the only way to salvage Em's kingdom and what is left of her family.

Em is determined to succeed, but the closer she gets to the prince, the more she questions her mission. Em's rage-filled heart begins to soften. But with her life—and her family—on the line, love could be Em's deadliest mistake.
Why I'm Excited:
This sounds freaking AWESOME. A heroine who's hellbent on revenge? And she marries the Prince in order to get it? What part of that doesn't sound awesome I ask you? Like I said I love fantasy, especially betrayal and revenge filled fantasy! Hopefully this one delivers all of that, I'll be disappointed if she chickens out and doesn't kill anyone…….
~~~~~~~~~~~~~~~~~~~~
#6.) Wink Poppy Midnight by April Genevieve Tucholke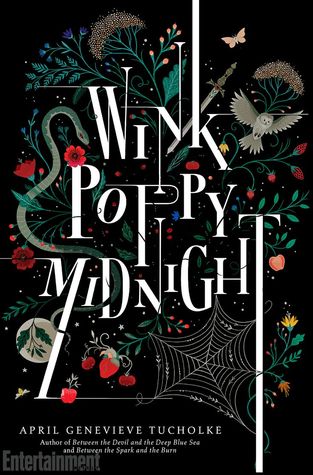 Release Date: March 22nd, 2016
Description From Goodreads
Every story needs a hero.
Every story needs a villain.
Every story needs a secret.

Wink is the odd, mysterious neighbor girl, wild red hair and freckles. Poppy is the blond bully and the beautiful, manipulative high school queen bee. Midnight is the sweet, uncertain boy caught between them. Wink. Poppy. Midnight. Two girls. One boy. Three voices that burst onto the page in short, sharp, bewitching chapters, and spiral swiftly and inexorably toward something terrible or tricky or tremendous.

What really happened?
Someone knows.
Someone is lying.
Why I'm Excited:
What can I say? I love anything creepy, and this book sounds like it would deliver just that. I also really enjoy books with unreliable narrators, I think it really adds to the suspense and also sets the story up for non-stop plot twists. Hopefully this book lives up to these expectations, I read Tucholke's short story in "Slasher Girls & Monster Boys" and wasn't really a fan but she also selected all of the stories that went into that book. She had great taste, except her own story I thought fell a bit short. Like I said I hope she proves me wrong and this book ends up being fantastic!
~~~~~~~~~~~~~~~~~~~~
#5.) Rebel of the Sands by Alwyn Hamilton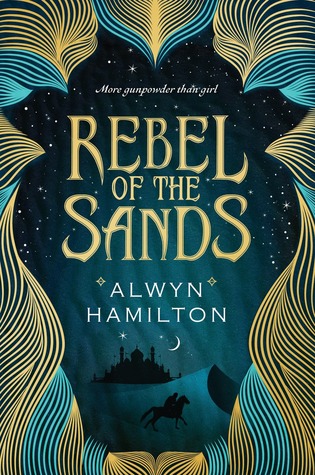 Release Date: March 8th, 2016
Description of Goodreads
She's more gunpowder than girl—and the fate of the desert lies in her hands.

Mortals rule the desert nation of Miraji, but mystical beasts still roam the wild and barren wastes, and rumor has it that somewhere, djinni still practice their magic. But there's nothing mystical or magical about Dustwalk, the dead-end town that Amani can't wait to escape from.

Destined to wind up "wed or dead," Amani's counting on her sharpshooting skills to get her out of Dustwalk. When she meets Jin, a mysterious and devastatingly handsome foreigner, in a shooting contest, she figures he's the perfect escape route. But in all her years spent dreaming of leaving home, she never imagined she'd gallop away on a mythical horse, fleeing the murderous Sultan's army, with a fugitive who's wanted for treason. And she'd never have predicted she'd fall in love with him…or that he'd help her unlock the powerful truth of who she really is.
Why I'm Excited:
It's in a very unique and exciting setting, a desert nation with a very Arabian feel. Plus there's mythical creatures and magic! Sounds like a very interesting fantasy book, definitely unlike anything I've read before. The romance might put me off a little bit but I'm guessing if the world is built well then I won't mind.
~~~~~~~~~~~~~~~~~~~~
#4.) Never Ever by Sara Saedi
Release Date: June 21st, 2016
Description From Goodreads
When Wylie encounters Phinn—confident, mature, and devastatingly handsome—at a party the night before her brother goes to juvie, she can't believe how fast she falls for him. And that's before he shows her how to fly.

Soon Wylie and her brothers find themselves whisked away to a mysterious tropical island off the coast of New York City where nobody ages beyond seventeen and life is a constant party. Wylie's in heaven: now her brother won't go to jail and she can escape her over-scheduled life with all its woes and responsibilities—permanently.

But the deeper Wylie falls for Phinn, the more she begins to discover has been kept from her and her brothers. Somebody on the island has been lying to her, but the truth can't stay hidden forever.
Why I'm Excited:
Peter Pan is my favorite Disney movie, so yeah I like him. This is a Peter Pan retelling, yes I want to read it. I don't think it sounds AS good as "Unhooked" however, I'm hoping it's something that will be worth my time.
~~~~~~~~~~~~~~~~~~~~
#3.) Unhooked by Lisa Maxwell
Release Date: February 2nd, 2016
Description From Goodreads
For as long as she can remember, Gwendolyn Allister has never had a place to call home—all because her mother believes that monsters are hunting them. Now these delusions have brought them to London, far from the life Gwen had finally started to build for herself. The only saving grace is her best friend, Olivia, who's coming with them for the summer.

But when Gwen and Olivia are kidnapped by shadowy creatures and taken to a world of flesh-eating sea hags and dangerous Fey, Gwen realizes her mom might have been sane all along.

The world Gwen finds herself in is called Neverland, yet it's nothing like the stories. Here, good and evil lose their meaning and memories slip like water through her fingers. As Gwen struggles to remember where she came from and find a way home, she must choose between trusting the charming fairy-tale hero who says all the right things and the roguish young pirate who promises to keep her safe.

With time running out and her enemies closing in, Gwen is forced to face the truths she's been hiding from all along. But will she be able to save Neverland without losing herself?
Why I'm Excited:
Another Peter Pan retelling…… So I'm pretty damn excited for a darker version of Neverland and a possible love triangle between Gwen, Peter, and Hook. You have NO idea how much I want that love triangle! I love Hook and Peter and having that play out in a book is a dream come true for me, seriously!
~~~~~~~~~~~~~~~~~~~~
#2.) The Imposter Queen by Sarah Fine
Release Date: January 5th, 2016
Description From Goodreads
Sixteen-year-old Elli was a small child when the Elders of Kupari chose her to succeed the Valtia, the queen who wields infinitely powerful ice and fire magic. Since then, Elli has lived in the temple, surrounded by luxury and tutored by magical priests, as she prepares for the day when the Valtia perishes and the magic finds a new home in her. Elli is destined to be the most powerful Valtia to ever rule.

But when the queen dies defending the kingdom from invading warriors, the magic doesn't enter Elli. It's nowhere to be found.

Disgraced, Elli flees to the outlands, the home of banished criminals—some who would love to see the temple burn with all its priests inside. As she finds her footing in this new world, Elli uncovers devastating new information about the Kupari magic, those who wield it, and the prophecy that foretold her destiny. Torn between the love she has for her people and her growing loyalty to the banished, Elli struggles to understand the true role she was meant to play. But as war looms, she must align with the right side—before the kingdom and its magic are completely destroyed.
Why I'm Excited:
First of all there was no hint at romance in the description, I like that. Her love is torn between two groups of people not two boys, I like that A LOT. Plus it's got all of your basic magic and fantasy elements, I guarantee I'll love this one. Plenty of reviewers are RAVING about how excellent this book is and I'm hoping it delivers.
~~~~~~~~~~~~~~~~~~~~
#1.) The Crown's Game by Evelyn Skye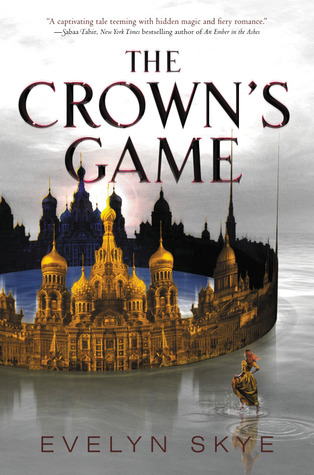 Release Date: May 17th, 2016
Description From Goodreads
Vika Andreyeva can summon the snow and turn ash into gold. Nikolai Karimov can see through walls and conjure bridges out of thin air. They are enchanters—the only two in Russia—and with the Ottoman Empire and the Kazakhs threatening, the Tsar needs a powerful enchanter by his side.

And so he initiates the Crown's Game, an ancient duel of magical skill—the greatest test an enchanter will ever know. The victor becomes the Imperial Enchanter and the Tsar's most respected adviser. The defeated is sentenced to death.

Raised on tiny Ovchinin Island her whole life, Vika is eager for the chance to show off her talent in the grand capital of Saint Petersburg. But can she kill another enchanter—even when his magic calls to her like nothing else ever has?

For Nikolai, an orphan, the Crown's Game is the chance of a lifetime. But his deadly opponent is a force to be reckoned with—beautiful, whip smart, imaginative—and he can't stop thinking about her.

And when Pasha, Nikolai's best friend and heir to the throne, also starts to fall for the mysterious enchantress, Nikolai must defeat the girl they both love . . . or be killed himself.

As long-buried secrets emerge, threatening the future of the empire, it becomes dangerously clear . . . the Crown's Game is not one to lose.
Why I'm Excited:
I am SUPER excited for this book, I NEED it NOW! There's Russian culture, magic, and a game that requires the two enchanters kill each other off? Sounds freaking awesome!  Also I don't know what it is but I find Russian culture very fascinating, so adding that into a fantasy world will be great!
That concludes this week's Top Ten Tuesday! Hopefully you guys found some new books to add to your TBR's!
Feel free to leave a link to your TTT in the comments below!