She is the most powerful Jinni of all. He is a boy from the streets. Their love will shake the world…

When Aladdin discovers Zahra's jinni lamp, Zahra is thrust back into a world she hasn't seen in hundreds of years—a world where magic is forbidden and Zahra's very existence is illegal. She must disguise herself to stay alive, using ancient shape-shifting magic, until her new master has selected his three wishes.

But when the King of the Jinn offers Zahra a chance to be free of her lamp forever, she seizes the opportunity—only to discover she is falling in love with Aladdin. When saving herself means betraying him, Zahra must decide once and for all: is winning her freedom worth losing her heart?

As time unravels and her enemies close in, Zahra finds herself suspended between danger and desire in this dazzling retelling of Aladdin from acclaimed author Jessica Khoury.
At first I had my doubts about this book, I'm usually not a fan of YA romances, but with all of the glowing reviews it was receiving I had to check it out. Plus look at that gorgeous cover! I'm so glad I took a chance on "The Forbidden Wish" because everything about it was utter perfection I don't have a single complaint about this book. It's not your typical YA romance or retelling, it really breaks the mold and it's quite simply…magical.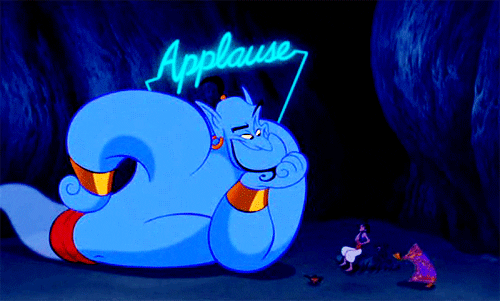 The story this book tells is wonderful it's filled with magic, jinn, and one heck of a romance. The romance is pretty heavy in this book but it isn't the sole focus, there's actually a plot outside of the romance which is why I ended up liking the romance in the end. Because it wasn't the only thing going on in the book. So while this book is very much a romance, for you un-romantics (like me) please don't let that deter you because this book has so much more to offer!
There's a solid amount of world-building and mythology, we get information on the different types of jinn as well as their home world and why humans don't get along well with them. I really appreciated the attention to such details because Khoury could have just thrown a jinni into the book and not have any sort of back story or mythology to go along with it. While "The Forbidden Wish" is very much a romance I really liked that it maintained YA fantasy elements as well,  I'm a stickler for world building in fantasy settings and this one didn't disappoint.
Another thing I really enjoyed was the way Zahra narrates the story, she addresses "Habiba" throughout the tale and slowly reveals who she was and what she meant to Zahra as the plot unfolds. Of course as we learn about "Habiba" we also learn about Zahra's past as well, this added so much more to the plot and I loved how it blended the past and present together and it really made for a more interesting reading experience.
The writing in "The Forbidden Wish" is really one of the most stunning things about it. I know I talk a lot about pretty writing but Khoury's is exceptional! There's so much detail in her descriptions that you could picture everything vividly and you could practically feel the magic in her words. I could honestly reread this book over and over again just for the writing.
I've got two words to describe the characters in "The Forbidden Wish": Girl Power. Sure there's Aladdin and few other male characters but they really pale in comparison to the women in this book.
Zahra is an all-powerful, badass, feisty, and clever jinni. However, at the same time she's imperfect and lonely and all she wants is to be free to do as she pleases with her life. Romance isn't the first and foremost thought in her head, she desires freedom. I actually really liked how selfish Zahra was because as I said she was an imperfect character, Zahra wants her freedom no matter the cost and she loves the people she cares about fiercely no matter the cost. I loved the depth to her character, Zahra is a fantastic heroine.
Then we have Princess Caspida and her Watchmaidens, remember how I said Zahra was badass? Well these girls are even more badass. Honestly I wish the book would have spent some more time on these ladies because they were a little more interesting than Zahra and Aladdin. Caspida wants what is best for her people and actually does something about it, she fights and does everything in her power to undermine her uncle's (he's our Jafar) hold on the city. They're the embodiment of Girl Power, seriously.
I'm a little undecided about my feelings on Aladdin, I think I like Disney Aladdin a little more but he's not a terrible character. He just didn't feel as developed as the women, or maybe in all of the kickass, awesome light of Zahra, Caspida, and the Watchmaidens he just couldn't compete. Honestly, he's more of a secondary character because the women in "The Forbidden Wish" take more of the central role. Although I will say he was reckless in the adorable way that Disney Aladdin was.
There are also some secondary characters that have a sliver of development but are mostly devices used to set certain plot points into motion. We have Caspida's father, the Sultan, as well as her uncle, the vizier, (our Jafar, if you will) and his son who is betrothed to Caspida (our Iago). I think you'll have more fun making comparisons between these characters and the Disney ones than you will reading about them, however they are important to the story. We also have some jinni that make a few appearances such as Nardukha, King of the Jinn, and his son, the prince. All make quite formidable villains as well, even if they aren't quite as developed as our main characters.
This book is all about that romance and I was won over by it and trust me when I tell you that's no easy feat. It takes quite a lot impress me with a YA romance since they're usually so riddled with tropes such as insta-love and love triangles. Neither of these are present in this book and it's such a breath of fresh air. No insta-love.
Aladdin and Zahra's romance is "forbidden" because he is human and she is jinn, which results in a very slow burn romance because Zahra knows she can't be with him or they'll both end up paying the price. She tries to keep her distance in order to spare Aladdin but she slowly falls for him and honestly I shipped them so much by the end of the book. I really enjoyed their romance.
Although at a point during the story Aladdin tries to win over Caspida to further his own agenda and I kind of would have liked to see a romance between these two. She is after all our badass "Princess Jasmine", I don't know it's just something I personally would have liked to happen. Don't get me wrong I loved Aladdin with Zahra but it would have been interesting to have it play out the other way as well.
Overall I LOVED this book and honestly found nothing wrong with it at all. It has excellent world-building, characters, and even I was won over by the romance. My only problem with it is that it's a stand alone! I would love to read more of Zahra and Aladdin's adventures! "The Forbidden Wish" is definitely one of my new favorites.
I highly recommend reading this book especially if you love retellings and even if you don't like books heavy on the romance I think you should give it a try anyways, I mean after all I loved it and I am not a romance reader.
Honestly I just recommend this for everyone, if I could buy you all copies so you'd read it I would!