So this month was pretty great for me as far as both reading and posting! I've finally caught up with many old comments and posts since having a slump at the end of March, so I'm happy to be back! I also had a decent month for books as well I read 4 even though the average has been 5 for me per month I still read some great books!
I'm definitely looking forward to May because it's going to be an AMAZING month for releases, I think I'll be doing up a post about those this week too so keep an eye out!
Books Read This Month: 4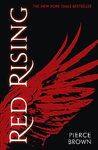 The only book I really disliked out of the ones I read this month was "The Roanoke Girls" which I just found to be very disappointing. However, the rest of these books were really great! I still have to collect my thoughts on "Living Dead Girl" since it's a very short book and one that's also pretty disturbing. I also don't know how in the world I am going to write a review for the AMAZING "Red Rising" yet either!
---
Reviews Finished This Month
The Sacred Lies of Minnow Bly by Stephanie Oakes
The Hate U Give by Angie Thomas
The Roanoke Girls by Amy Engel
Tiger Lily by Jodi Lynn Anderson
---
Tags & Memes Done This Month
Top Ten Tuesday: Most Unique Books I've Read
Top Ten Tuesday: Book Turn Offs
---
Other Posts Done This Month
Not All Fun & Games: The Pressures of Book Blogging
Discussion Post: Unwanted Review Requests
---
What I'm Currently Reading:
So far this book is VERY good, I thought it was going to be another cookie-cutter YA Fantasy book but it's actually pretty unique and I'm loving it!
Also as soon as I'm finished I'm going to start my ARC of "The Seafarer's Kiss" which is a retelling of The Little Mermaid with a F/F romance!
How was your reading and blogging month this April?
What were your best or worst reads?
What are you currently reading?
What books are you excited for this coming month, May?
Let me know in the comments!